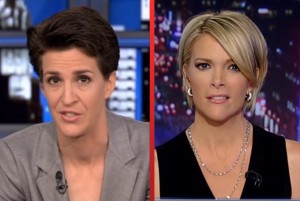 MSNBC's Rachel Maddow may be catching up to her 9 p.m. rival on Fox News Megyn Kelly, beating or nearly tying The Kelly File in the crucial 25-54 age demographic three times this month.
On Wednesday The Rachel Maddow Show netted 400k viewers in demo, nearly tying The Kelly File at 401k. Kelly has been on vacation the last two weeks however, with Trish Regan, Martha MacCallum and Sandra Smith substituting.
In addition to Thursday night, Maddow trumped Kelly on both Aug, 15 (428k to 416k key demo viewers) and on Aug. 4 (493k to 485k in the demographic).
Kelly File still led in total viewership for each of those nights. Although The Kelly File continued its overall dominance in the time slot — netting 500,000 more viewers than its MSNBC rival — is it the key 25-54 demo that advertisers most highly covet. The popular industry way of thinking regarding this age bracket is that ad spending significantly drops past 54, making this range the crucial element of live viewers.  The Kelly File also had the most-watch program in cable news in that demo in July.
The achievement may also be representative of an overall boost that the political peacock is enjoying this summer. As Adweek recently pointed out, "These have not been your typical dog days of summer for MSNBC."
MSNBC said in a release earlier this month:
MSNBC dayside programming (M-F, 9am-5pm) delivered its biggest total viewer audience since the last presidential election (November 2012) and biggest A25-54 demo audience in over three years (since January 2013). Among total viewers, MSNBC dayside posted year-to-year gains of 117% vs. July 2015, far outpacing both CNN (88%) and FOX News (47%). Among the key A25-54 demo, MSNBC dayside grew by 192% vs. July 2015, more than doubling the demo growth of CNN (93%) and tripling that of FOX News (58%).
July 2016 was the most-watched month in four years for MSNBC.
— —
Things got a bit heated on Twitter when it looked like Breitbart was pushing this story to make Megyn Kelly look bad.
. @BreitbartNews .. we know you don't like @megynkelly but she DOMINATES ratings except for a few fluky nights. https://t.co/kjZTUInNfN

— Brian Flood (@briansflood) August 19, 2016
. @BreitbartNews Also, @megynkelly has been on vacation the past two weeks when Maddow has topped her in demo.

— Brian Flood (@briansflood) August 19, 2016
It doesn't take a genius to figure out that viewers will change channel when Megyn isn't on 'The Kelly File' (but I do love @trish_regan )

— Brian Flood (@briansflood) August 19, 2016
Have a tip we should know? tips@mediaite.com