S.C. Gov Nikki Haley: Trump is 'Everything a Governor Doesn't Want in a President'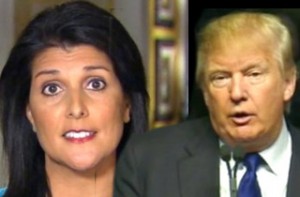 As Republican candidates are criss-crossing her state in the days leading up to the primary, South Carolina governor Nikki Haley has yet to make an endorsement — but told reporters Tuesday that it would certainly not be Donald Trump.
"I'm doing what a lot of people in South Carolina are doing," she said, according to Greenville Online. "I'm looking at all the candidates that are there and trying to figure out who that person would be." The Donald, she said, would not be that person.
Haley has opposed the possibility of both relocation of prisoners from Guantánamo Bay and of Syrian refugees into her state — but Trump accused her of not standing up to the federal government strongly enough on these issues.
"When you have a candidate that comes in and goes against a governor, it's everything a governor doesn't want in a president," she said. "Because we don't want a president that's just going to bash and sit there and tell us what we're not doing right. We want a president that is going to help us fight, help us win and help explain why we don't want Syrian refugees and why prisoners at Guantánamo Bay don't need to come to South Carolina."
This is not the first friction between Trump and the Palmetto governor. When Haley delivered the GOP rebuttal to the State of the Union address, she implicitly criticized Trump when she enjoined Republican voters to resist "the siren call of the angriest voices," and later called his anti-Muslim, anti-immigrant rhetoric "irresponsible talk." Trump hit back by calling her "weak on immigration."
[h/t Greenville Online]
Have a tip we should know? tips@mediaite.com