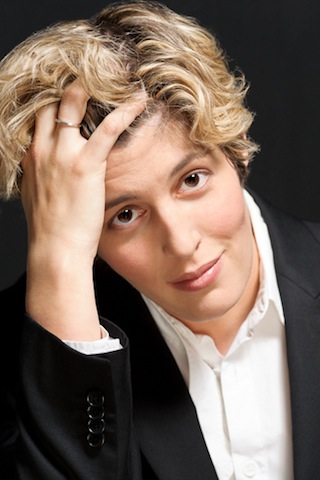 Media watchers applauded conservative author Ann Coulter's superb trolling of World Cup fans when she wrote that America's new soccer enthusiasm is "a sign of the nation's moral decay." But here's CNN liberal commentator Sally Kohn to possibly outdo her.
"Chick-fil-A is like gay sex: Don't knock it till you try it," Kohn writes in a new column at The Daily Beast.
The rest of the column is almost entirely unintelligible, drawing comparisons between Chick-Fil-A's less-fattening menu items to being a slim and sexy person who is willing to dabble in homosexuality. ("When you're svelter you feel more sexy and so suddenly you start exploring your options and you're more likely to add a whole other half of the population to that exploration!")
Fortunately, Kohn confirmed to Mediaite that the whole piece is satire.
"It's a satirical piece meant to riff off a bit of news and along the way support diversity and equality," she told us. "But as a piece of satire, don't try to read too much into it! You might pull a muscle."
A recent report said Chick-Fil-A has overtaken Kentucky Fried Chicken as the "largest chicken chain." Here's how Kohn digested that with her tongue in her cheek:
I would like to take this opportunity to remind conservatives that the previous reigning champion in the "largest chicken chain" contest was fronted by a "Colonel" who appeared to turn to cooking chickens after his unfortunate defeat in the War of Northern Aggression so… It's distinctly possible that all "large chicken chains" trade in a brand of white, Southern-fried conservativism in which the only diversity embraced is in the secret spice mix. I'm just speculating here, though doing so sincerely.
Chick-Fil-A fell into the national media spotlight in 2012 when its CEO Dan Cathy expressed his support for traditional marriage. While many criticized Cathy, social conservatives clamored to show their support by patronizing the restaurant.
More from Kohn's column: "Did you know that 'chicken' is also the nickname for a young man seeking the sexual attention of an older man? But I digress…"
Wait, what?
"The chicken thing is well known," Kohn said when asked to clarify. "Just is. Ask some gay men."
We consulted one gay man on this matter, who suggested that Kohn may have meant "chicken hawk." Urban Dictionary, however, defines chicken hawk as an "older male who seeks the company or favours of an younger male."
Update: After this post published, Kohn emailed a follow-up: "Yes the 'chicken hawks' are the older dudes who are on hunt for 'chickens' — not that I'm really an expert on all this nor suspect that fact checking this is an important enterprise…"
— —
>> Follow Eddie Scarry (@escarry) on Twitter
Have a tip we should know? [email protected]