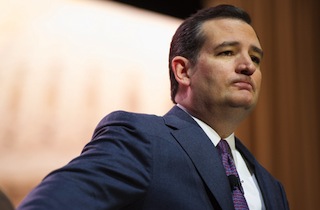 As Democratic lawmakers split from the White House on the party's response to the immigration crisis, Senator Ted Cruz (R-TX) may be setting up a rift in his own party. Cruz announced Wednesday evening that ending DACA, the deferred action for DREAM-eligible undocumented immigrants on which many Republicans blame the current migrant child surge, was now his "top priority."

Cruz's position comes as Representative Henry Cuellar (D-TX) and Senator John Cornyn (R-TX) ready a bill amending a 2008 law to expedite deportations of the migrant children. That bill may end up married to a House bill appropriating additional funds — though likely short of the $3.7 billion asked for by the White House — to address the immediate situation at the border.
RELATED: CNN Host to Dem Rep.: 'Can You Actually Get Anything Done' on Border Crisis?
Cruz's office said that any bill hoping to pass the Senate must also include provisions to limit or repeal deferred action. "We believe that needs to be a prerequisite of any bill that is considered by the Senate," a Cruz spokesperson said Wednesday.
Cornyn said he believed he had Cruz's general support. "We just got bill language this morning, so we'll be talking more about it," Cornyn said. "But he seems supportive, we'll find out." Meanwhile, some Republicans believed that addressing the situation on the border took precedence over longer-term legislation issues, especially given the thorny problems immigration currently poses for the GOP.
Cruz's office did tell the Huffington Post it was "premature" to say whether Cruz would filibuster a Senate bill that did not address DACA.
[h/t POLITICO]
[Image via Christopher Halloran / Shutterstock.com]
——
>> Follow Evan McMurry (@evanmcmurry) on Twitter
Have a tip we should know? [email protected]