San Diego Moving Companies Band Together and Refuse to Help Move Chargers Move to LA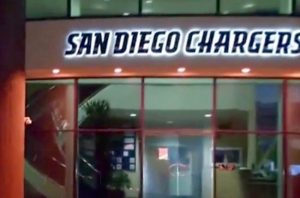 Reaction to the Chargers' plans to leave San Diego and move to Los Angeles have not gone over well. Their new logo (which they've already pulled) was the subject of widespread mockery, prominent sports media figures accused them of trying to "fleece" the city of San Diego, and one angry fan even lobbed eggs at the Chargers' offices.
Apparently, local moving companies in San Diego are none too thrilled with the move either. And many of them have now banded together to say that they will refuse to help the team with the physical logistics of their move.
The companies (24 are listed as of Tuesday morning) have started a website, wewontmoveyouchargers.com, in which they state their formal protest to the Chargers' move.
"We decree, henceforth, that we shall unite as a perfect union of professional movers in agreeance to not aid the San Diego Chargers' move to Los Angeles," read the statement on the website.
Eight Los Angeles moving companies are also listed on the site.
Ryan Charles, the head of sales and marketing for HireAHelper who helped come up with the gimmick, told San Diego NBC affiliate KNSD about how it came to be.
"We were just sitting there thinking about the physical move of the Chargers," Charles said. "We were thinking we would not want to be a part of that, having been born and raised here and being a lifelong Chargers fan."
Charles added, "It's almost like the last line of defense. We were making this last statement of loyalty to the San Diego Chargers."
[image via screengrab]
–
Follow Joe DePaolo (@joe_depaolo) on Twitter
Have a tip we should know? tips@mediaite.com
Joe DePaolo - Senior Editor