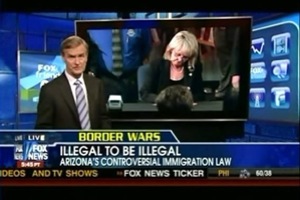 It only took about 17 hours for Sarah Palin's impressive showing on Hannity last night to be debunked. Media Matters is raining on the Palin competence parade this morning by noting that her one questionable attack on the "lamestream media" may have been inadvertently directed at her employer, Fox News. Oh well, it was fun while it lasted.
Palin attacked the "lamestream media," as she is wont to do, for a headline she saw on one of the cable news channels claiming that the Arizona immigration law made it "illegal to be illegal" in a manner that could be construed as a bias against the bill. Media Matters dug up a chyron, above, reading precisely that, except it's from a segment on Fox and Friends.
To her credit, her aside on the "lamestream media" does not directly reflect on her knowledge of the illegal immigration issue or how to run a state, and her point that attacking a law that makes it illegal to be illegal is ridiculous still stands. And it's also quite possible that she did see a similar headline on another channel (there are only so many ways to title the same issue).
At this point in her career, Palin probably feels an obligation to attack the media wherever she goes– in a similar way to how bands feel obligated to play their most successful hit singles at every single concert– and, not finding an opportunity to do so in a debate that exclusively about policy, came up with an attack off the top of her head. For someone with Sarah Palin's head, coming up with an attack solely for the sake of attacking in a way that completely breaks the train of thought on which she was traveling, this is always a bad idea.
On the plus side, this shows that Palin hasn't been cheating on her employer by watching any of the other news channels! The clip with the comment in question below:

Have a tip we should know? tips@mediaite.com