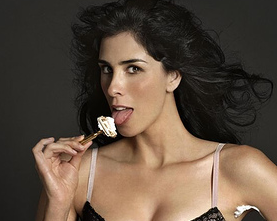 As the saying goes, dying is easy, comedy is hard, but combining comedy with a sports blog can be downright murder. On the heels of last year's disastrous Comedy Week live-chat with Sarah Silverman, Gawker sports blog Deadspin is giving it another shot. Despite famously blowing their first shot with Silverman, Deadspin's editors decided to invite the edgy comic back for another try. Silverman's response included some rather emphatic dietary advice.

In case you missed it, Deadspin tried to branch out a little bit last year with theme weeks, and enlisted Silverman to lead the climax of their first "Comedy Week" (and to promote Silverman's book, The Bedwetter) with a live online chat. They decided to conduct the chat 2005-style, by using their comments section, which caused the whole thing to go wrong. Deadspin's readers were merciless dicks about the whole thing, and editor AJ Daulerio wasn't much better.
Daulerio extended Silverman an "olive branch" (or an invitation to send a traffic-juicing kissoff) by inviting her to participate in this year's Comedy Week, with predictable results. Silverman's (extremely NSFW) response:
I was super happy to do that thing last year and had so much fun doing it I went long (having no idea it wasn't going through) and to wake up to that cunty blog was such a shitty fuck you. People say brutal stuff about me all the time, of course, but not people that I thought were peers and friends.
So, ya, I pretty much have no interest in illuminating anything that happened or happens on your site or bringing a single new pair of eyes to it.
Eat a dick,

Sarah Silverman
Grantland.com
Silverman is probably making the right choice. We hear this year's climactic live chat will be conducted via semaphore flags.
Author's Note: Unrelated, but interesting, is the fact that "Sarah Silverman Feet" is the number one Google image search suggestion for Sarah Silverman. The more you know…
Have a tip we should know? tips@mediaite.com