Update: Sarah Palin and Daily Kos Have Not "Scrubbed" Posts With "Target" Imagery of Giffords' District
Shortly after reports surfaced that Rep. Gabrielle Giffords had been shot point-blank range during a meet and greet event in a Tuscon area Safeway parking lot, the managers of the website for Sarah Palin's website SarahPAC took down some controversial imagery that included gun sight symbols over various congressional districts in political play, many on Twitter noticed that a site endorsed by Sarah Palin called Take Back the 20 was no longer live. The site included controversial imagery: gun sight symbols over various congressional districts in political play, one of the targets on the map was that of Rep. Giffords. At the time, SarahPAC received criticism, even from some conservatives, over the imagery. Update – Its not clear that the image was actually removed from the SarahPAC website, though the site that originally posted the image, Take Back The 20 is down, and it still remains on her Facebook page.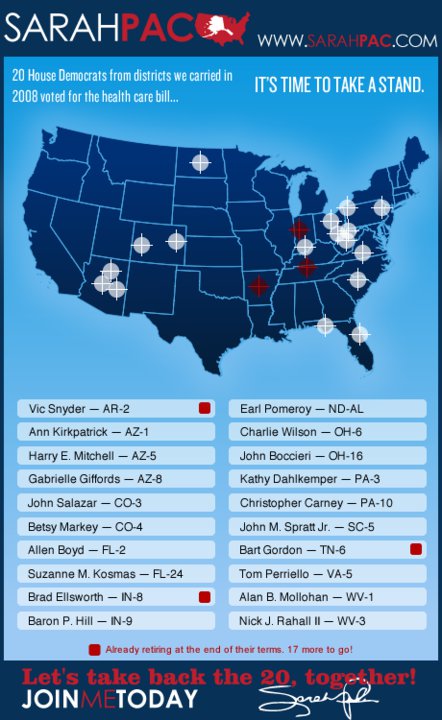 The image does, however, still appear on Palin's Facebook page.
Palin has also reportedly deleted her infamous "Don't retreat, reload" tweet. Update: The "Don't retreat, reload" tweet was not deleted.
The website Daily Kos has also deleted a diary about Rep. Gabrielle Giffords entitled ""My Congresswoman Voted Against Pelosi, Now She's Dead To Me," but so far has not deleted a post by founder Markos Moulitsas that lists Giffords' district among those on their "target list," and noted that "Not all of these people will get or even deserve primaries, but this vote certainly puts a bulls eye on their district." (emphasis ours).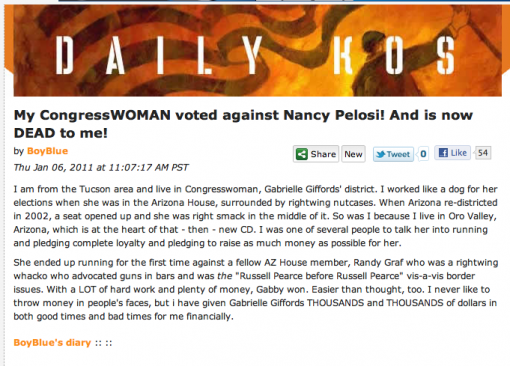 Moulitsas also used the occasion of the tragedy to work in a Twitter plug for his book, "American Taliban."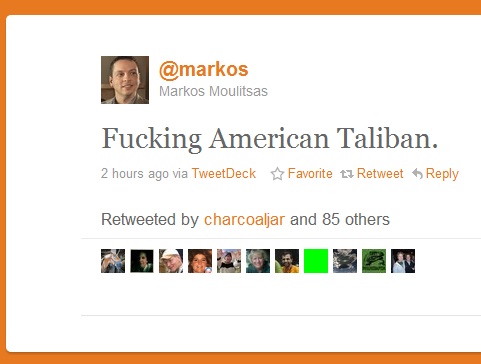 The tweet, it's worth noting, was sent well before the shooter's identity had been released.
For her part, Sarah Palin offered the following comment via her Facebook page:
On the tragedy in Arizona
By Sarah Palin · about an hour ago

My sincere condolences are offered to the family of Rep. Gabrielle Giffords and the other victims of today's tragic shooting in Arizona.

On behalf of Todd and my family, we all pray for the victims and their families, and for peace and justice.

– Sarah Palin
While some will take these deletions as some sort of consciousness of guilt, there's also something to be said for sensitivity to the victims, their loved-ones, and well-wishers. It seems, in some quarters, such sensitivity is in short supply.
Update: To the extent that these items have not been scrubbed, perhaps they now should be, or at least revised in some way.
This post has been updated to reflect that the "crosshair" image still appears on Sarah Palin's Facebook page. We also have clarified that we are not certain that any images have been removed, only that the original website was down. The headline for this post has been changed, from "SarahPAC Website Removes "Hit List" Image That Included Target On Giffords District," then to "SarahPAC's Removes "Hit List" Image Of Giffords District, Her Facebook Page And DailyKos Post Remain," to its current headline.
Have a tip we should know? tips@mediaite.com