A Former Giffords Intern Reflects On Her Congresswoman And Working At Public Events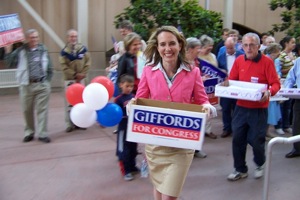 My sister sent me a text message at 1:02 P.M.: "Gabrielle Giffords was shot today."
I literally didn't believe her — I Googled "Gabrielle Giffords" and didn't see anything at first, but within a few minutes, the story was everywhere. First, I heard reports that "an Arizona congresswoman" was shot, then I heard that Giffords had been killed, then other reports surfaced that she was alive. As of this writing, she is out of surgery and reportedly in critical condition at University Medical Center in Tucson, Ariz.
The news was particularly shocking to me, as I went to college in Tucson and worked as the communications intern for Giffords's re-election campaign in 2008. As an intern, most of my duties were menial — making signs, answering phones and cataloging news clippings. I frequently attended public events with other staffers much like the "Congress On Your Corner" event today. One of the first events I worked at was an ice cream social in August 2008 that was held, unglamorously, in a multi-purpose room in Tucson. The place was filled with folding chairs, hand-made signs, and volunteers scooping gallons of ice cream for children and seniors — the typical demographic for ice cream socials. Gabby (as many of the other volunteers called her; I was too shy) patiently held a Q&A with those in attendance. I still remember some of her points that day: we were going to make Arizona the solar power capital of the country, we were going to balance our budget, we were going to elect Barack Obama President of the United States. There was no security at that event. In all the campaign events I attended, I don't remember ever seeing any kind of security detail with the congresswoman — just staffers and volunteers. There didn't seem to be a need for it.
My favorite day of that internship was Election Day, 2008. I was collecting footage for what ended up being a victory reel on her Facebook page, called "Cactus Roots: Election Day." I stood quietly with a video camera rolling as she voted, then spent several minutes greeting supporters outside her polling place. Later, I went with her to the Pima County Democratic Headquarters to chat with volunteers. The building was filled to capacity with people making calls for Obama, and she stopped at every table to say hello, occasionally switching to fluent Spanish. Her husband hung back, patient, but a little tired and a little restless (I could relate, since I had spent several hours slipping fliers listing polling places under people's doors before dawn). I ended the day filming her victory speech at the Mariott hotel in Tucson, minutes after Barack Obama was elected to the presidency.
I finished that internship thinking that I didn't have the stuff to be a campaign operative. The hours were insane, and the work was often tedious and frustrating. I also left that internship amazed by the devotion of her staff. They believed in her so much. The week before the election many of them wore the same clothes for days, not even taking breaks to go home. I remember being sent to an office in the evening to pick up some pamphlets the night before Election Day, flinging the door open only to have to whisper an apology to the staffer who was asleep on the couch, surrounded by piles of papers.
Gabrielle Giffords is the type of public official who has always recognized that it's not about her. I always admired her eagerness to talk directly to her constituents, her commitment to learning everything she could about the issues facing her district, and the sense of humor and intelligence that inspired such loyalty in the people who worked for her. She's a public servant in the purest sense.
I hope for a full recovery for Gabby, and that the families of those wounded and killed today in Tucson are able to find some solace in the prayers and kind words that have poured in from all across the country. Something I've seen pop up several times around the internet today is a quote on Giffords's Facebook page attributed to Abraham Lincoln, and it seems an appropriate note to end on: ""With malice toward none, with charity for all, …let us strive on to finish the work we are in, …to do all which may achieve and cherish a just and lasting peace among ourselves and with all nations."
I'm pulling for you, Gabby. Thank you for four years of outstanding public service. I hope there are many more to come.
[Photo via]
Have a tip we should know? [email protected]