Scalia Defends Citizens United Decision: 'If The System Seems Crazy… Don't Blame It On The Court'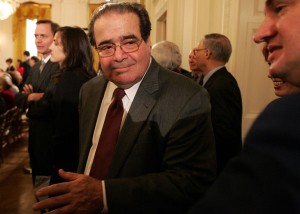 Yesterday marked a significant anniversary in campaign finance history: the second anniversary of the Supreme Court's controversial ruling in Citizens United vs. the Federal Election Commission that concluded corporations are legally people and can use unlimited campaign funds to support candidates for public office. Justices Antonin Scalia and Stephen Breyer discussed the decision yesterday before the South Carolina bar, with Scalia telling opponents of the decision to just turn their TVs off if they didn't like seeing all the negative ads.
RELATED: Rachel Maddow Fears New Citizens United Influence, But Swiftboating Isn't New
Breyer admitted that "when a decision isn't unanimous, 'somebody is making a mistake'" and voiced his concerns with the implications the decision holds for future elections, including this year's presidential race.
"There are real problems when people want to spend lots of money on a candidate … they'll drown out the people who don't have a lot of money."
However, Scalia vigorously defended the decision, insisting that the Supreme Court was not to blame for the craziness in the campaign finance system and all the legal issues surrounding Super PACs. He put the impetus on elected officials to change the system and on voters to not just choose candidates who spend the most money on elections, because that just feeds into the status quo. However, he does not personally have an issue with the way the system works now.
"I don't care who is doing the speech — the more the merrier… People are not stupid. If they don't like it, they'll shut it off."
RELATED: Newt Gingrich Hilariously Tells Chuck Todd He's No Victim Of Citizens United
Scalia and Breyer were also asked about the upcoming Supreme Court hearings over President Obama's health care law, but refused to say much on the subject before the hearings actually take place.
h/t CBS News
Have a tip we should know? tips@mediaite.com
Josh Feldman - Senior Editor