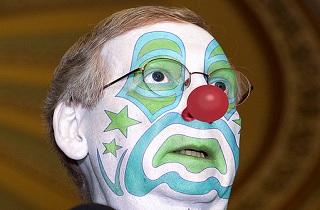 The mainstream media took to the IRS "scandal" like a bunny in heat to a pair of mink slippers, immediately proclaiming the agency's alleged targeting of conservative groups for additional tax-exempt-application scrutiny "Nixonian," and even directly accusing the President of ordering it. The same reporters and commentators who, a month ago, were fitting President Obama for a Joe Biden pardon have fallen silent now that Rep. Elijah Cummings has helped to crush the dream of a White House link to the scandal, but at least Senate Minority Leader Mitch McConnell (R-KY) is facing facts.
The IRS scandal wasn't a total loss, of course, but try as they might, Republicans could never quite get their trail of bread crumbs to reach anywhere near the White House. The buzzards were circling earlier this month when Rep. Darrell Issa (R-CA) released the best quotes he could cherry-pick from closed testimony, and still came up short. It was Rep. Elijah Cummings who finished it off, though, when he fulfilled Issa's promise to release the full transcripts, which revealed that the supervisor responsible for scrutinizing Tea Party groups was a conservative Republican who ruled out White House involvement in the policy.
While it's probably too much to ask for McConnell, or the political media, to apologize for jumping to Nixonian conclusions, at least McConnell is kindof facing reality. From TPM's Brian Beutler:
McConnell effectively acknowledged to disappointed conservatives that recently revealed IRS malfeasance probably wasn't the consequence of any direct action taken by the White House.

"There might be some folks out there waiting for a hand signed memo from President Obama to Lois Learner to turn up," he said, referring to conservatives and Republicans who have charged that the IRS was following White House instructions when it targeted conservative non-profits. "Do not hold your breath."

…"I am prepared to say, and did say today, that the President and his political allies encouraged this kind of bureaucratic overreach by their public comments," he said. "But that's quite different from saying they ordered it."
To be fair, the mainstream media have fallen out of love with all of the Scandalabra™ narratives, and into a passionate affair with the proverbial "one who was there all along," but the least they could do is come over and get their stuff.
Have a tip we should know? tips@mediaite.com