Scaramucci Post Slammed Over Twitter Poll on How Many Jews Died in the Holocaust (UPDATED)
The Scaramucci Post is facing a lot of questions today after they asked the Twitterverse to decide on how many Jewish people died as a result of the Holocaust.
The new online media venture from former White House communications director Anthony Scaramucci posted a peculiar Twitter poll on Tuesday, asking what was the result of Adolf Hitler's Final Solution.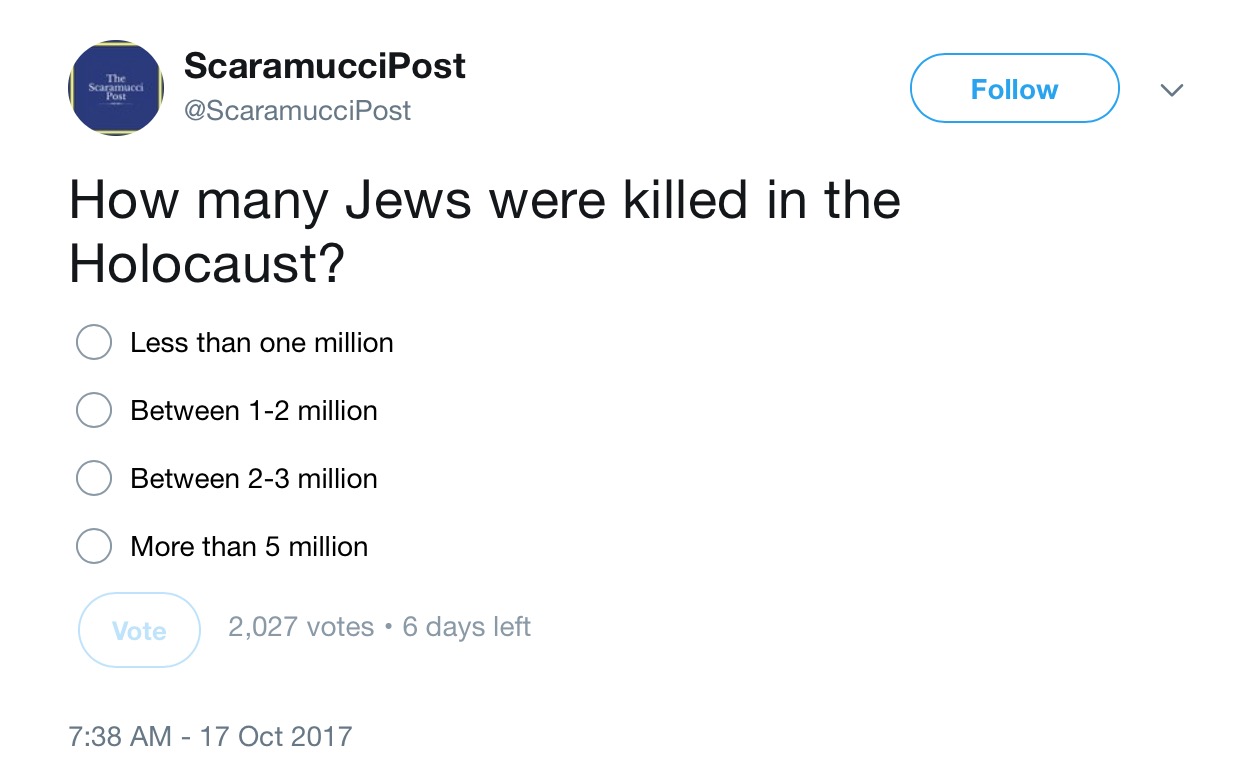 The poll is already getting a lot of reactions, and this should give you an idea of what the reception has been like:
Take this down now.

— Elizabeth Picciuto (@epicciuto) October 17, 2017
.@scaramucci, whatever you are trying to achieve here … it is not working. https://t.co/bUxYI4fH4g

— Noah Shachtman (@NoahShachtman) October 17, 2017
You're gonna regret this.

— Mike Spookbery ?? (@MikeStuchbery_) October 17, 2017
The crazy thing is, one can't tell if they've been hacked or not. https://t.co/LtN9mh1P6k

— Jay Caruso (@JayCaruso) October 17, 2017
It was always going to end like this pic.twitter.com/Lqskxi4tG9

— Lachlan Markay (@lachlan) October 17, 2017
"The Short and Tragic Life of Scaramucci Post."

— Noah Rothman (@NoahCRothman) October 17, 2017
Are you serious @Scaramucci – please tell me this is a hack attack https://t.co/WePsnU2hOe

— Stephanie Ruhle (@SRuhle) October 17, 2017
What in the actual fuck @Scaramucci? Likable goof to Holocaust denier?

— Jeremy Newberger (@jeremynewberger) October 17, 2017
According to the United States Holocaust Memorial Museum, approximately 6 million Jews were killed in the Holocaust, and millions more were murdered by the systematic Nazi efforts to exterminate undesired groups of people.
UPDATE – 9:54 a.m. EST: The poll has been deleted, and the Post's social media team is apologizing to those who took offense to it.
[Image via screengrab]
— —
>> Follow Ken Meyer (@KenMeyer91) on Twitter
Have a tip we should know? [email protected]