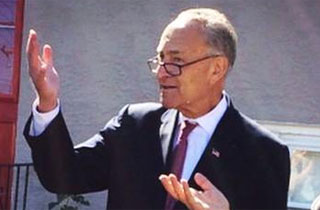 In a frank admission, Sen. Chuck Schumer (D-NY) lamented the fact that the Democrats wasted their political capital on getting Obamacare passed, rather than fixing the economy immediately after their 2008 victories.
"Unfortunately, Democrats lost the opportunity the American people gave them," he told a group at the National Press Club in a speech today. "We took their mandate and put all of our focus on the wrong problem: health care reform."
"The plight of uninsured Americans and the hardships caused by unfair insurance company practices certainly needed to be addressed, but it was not the change we were hired to make," he continued, according to Talking Points Memo:
Americans were crying out for the end to the recession, for better wages and more jobs, not changes in health care. This makes sense, considering 85 percent of all Americans got their health care from either the government, Medicare, Medicaid, or their employer. And if health care costs were going up, it really did not affect them. The Affordable Care Act was aimed at the 36 million Americans who were not covered. It has been reported that only a third of the uninsured are even registered to vote.
In order for the Democrats to regain their momentum for 2016 — they lost the House in 2010 and the Senate in the last midterm elections — Sen. Schumer argued that "Democrats must embrace government."
"The focus on Obamacare gave anti-government forces in the Republican party new vigor and life," he noted. "At least temporarily."
[h/t TPM]
[Image via Facebook]
—
>> Follow Tina Nguyen (@Tina_Nguyen) on Twitter
Have a tip we should know? tips@mediaite.com