Scientists Move 'Doomsday Clock' Closer to Midnight, Say Trump Could Cause Nuclear Conflict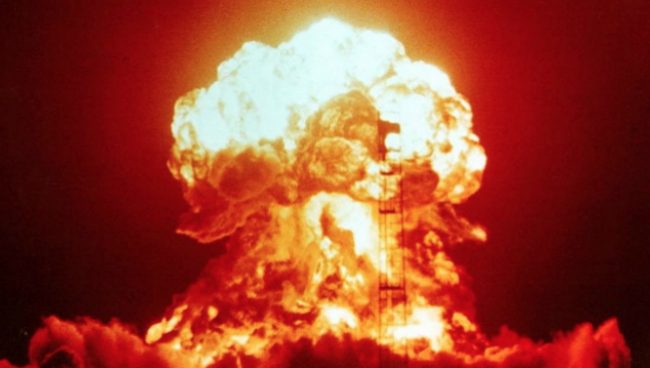 According to a group of scientists based in Chicago, Earth is steadily getting closer to the End of Days.
Since the 1940's, the Bulletin of Atomic Scientists has used their symbolic "Doomsday Clock" in order to track points of history where civilization has come close to global catastrophe. The group has recently moved the clock to two and a half minutes to midnight, signifying that the world faces the greatest threat level it has seen since America and the Soviet Union held hydrogen bomb tests during the first years of the Cold War.
The group determines the state of the clock by quantifying data in connection to subjects like political diplomacy, technological advances, climate, and cybersecurity. In a statement released earlier this week, the group announced that they were taking an unusual step and moving the clock based in part on the statements, actions, and impact of one particular person: President Donald Trump.
"Over the course of 2016, the global security landscape darkened as the international community failed to come effectively to grips with humanity's most pressing existential threats, nuclear weapons and climate change … This already-threatening world situation was the backdrop for a rise in strident nationalism worldwide in 2016, including in a U.S. presidential campaign during which the eventual victor, Donald Trump, made disturbing comments about the use and proliferation of nuclear weapons and expressed disbelief in the overwhelming scientific consensus on climate change."
The statement goes on to describe how the group took developments like North Korea's nuclear tests, ongoing conflict in the Middle East, and Russia's election interference into consideration.
[h/t NPR]
[Image via National Nuclear Security Administration]
— —
>> Follow Ken Meyer (@KenMeyer91) on Twitter
Have a tip we should know? tips@mediaite.com