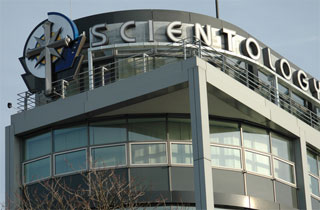 Paul Haggis, the Oscar-winning director of Crash, is persona non grata among Scientologists thanks to his public break with the Church (detailed in this lengthy New Yorker article). Recently, Haggis claimed that the Church had sent a fake reporter after him, possibly to get a quote from him they could "twist to fit the needs" of the Church, or just "general fishing" for maybe-blackmail.
As his recounting goes, a reporter identified as "Mark Webber," sent him an interview request earlier this month. "I am writing a piece for Time Magazine on the 'golden age' of film. — I would very much like to interview you for the piece and include "Crash" as a example of recent film that has that beautiful cinematic 'touch'." Webber claimed that other directors, such as David Lynch and " Francis-Ford Coppola" were also participating, and asked for a phone interview.
Harris sent the request to his assistants, who noticed something weird when researching Webber's background: he had no bylines to his name. A call to Time's entertainment editors revealed that they'd never assigned an article about "the 'golden age' of film" to Mark Webber. Also, Mark Webber didn't work there. Maybe he didn't exist!
When the team looked at the email's IP address, they discovered that it originated from 5165 Fountain Avenue in Los Angeles, an address allegedly owned by the Church of Scientology and supposedly used for housing the members of Sea Org.
In an interview with Tony Ortega, Haggis strongly suspects that the Church had wanted to do two things with him: they may have tried to turn the phoner into a one-on-one interview, then locked him in a room with a bunch of Scientology officials until Haggis did whatever they wanted. (Haggis said it's happened to him before: according to him, nine officials locked him in a room and wouldn't let him leave until he signed a letter apologizing for a joke he made about Tom Cruise.) Or they may have tried to take words in the interview out of context, which Haggis says is a common Scientology tactic:
By way of example, they constantly use a photo of me in an orange prison jump suit, and refer to me as the "hypocrite of Hollywood."

They fail to mention that this is extracted from a photograph taken by Amnesty International, in which actors Mark Ruffalo, Martin Sheen, and I were asked to don the suits in order to protest endless incarceration without due process of law at Guantanamo. Mark and Martin mysteriously disappeared from the photo — I'm sure an unintended oversight by Mr. Miscavige — and the impression given is that, at one time or another, I was a long-time guest of the federal prison system.
The Church has launched a massive campaign against its critics recently, featured prominently in the recent documentary Going Clear, and Haggis notes that they do so mainly by manipulating their words: "Scientology is infamous for taking and using quotes out of context".
A Church spokesman told The Hollywood Reporter that they did no such thing and that "the entire story is fabricated."
[h/t Gawker]
[Image via 360b / Shutterstock.com]
—
>> Follow Tina Nguyen (@Tina_Nguyen) on Twitter
Have a tip we should know? tips@mediaite.com