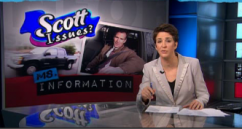 Apparently, just about everyone is out there uncovering the inconvenient truth that Scott Brown may not be exactly as he seems! This weekend's New York Times Magazine features a long profile on Brown penned by former Times food critic Frank Bruni that reveals a number of things about Brown that, as Rachel Maddow notes (video below), Martha Coakley probably wished she'd known sometime in early January. Namely, he used to make $1000 a day modeling, he showed up for his first date with his wife in pink leather shorts, and he only bought the infamous pickup truck in order to cart his daughter Arianna back and forth to her equestrian events. But why read the whole article when Rachel Maddow is willing to sum it up for you!
Actually, you should read the article because it's rather charming, as is Scott Brown. I mean, try and read stuff like this and not be charmed. I think Maddow may be lacking at little bit of her usual sense of 'wit' this time around. Maddow video below.
During college, Brown excelled on the basketball court, majored in history and graduated in four years. "He wasn't a scholar," says Michael Quinn, one of his best friends since junior high, adding that Brown was practical in his approach to school. "It was his ticket to a better life." So was modeling, which helped him sock away money for law school and beyond. An acquaintance with whom he was painting houses­ one summer suggested it as a way to earn a quick buck, and the Cosmo spread gave him momentum. Without his knowledge, he said, his half-sister had sent his picture to the magazine for consideration in the "sexiest man" contest. He said he thought the subsequent call from someone identifying herself as Helen Gurley Brown was a prank — until he received a plane ticket to fly to New York.

"You know what?" she said after briefly meeting him, as he remembered it. "You're our guy."

"But you haven't seen me, like, naked," he recalled answering, because he'd been told that a nude photo session was part of the deal.

"This is Cosmo," she said. "Don't worry about it." They had him position one hand so that it covered up what a racier magazine wouldn't. And they gave him $1,000, which he cites as the reason he went ahead with it — that and the doors it opened in New York, where he spent two years as a model, represented by the Wilhelmina agency, while taking classes at the Benjamin N. Cardozo School of Law.
Have a tip we should know? tips@mediaite.com