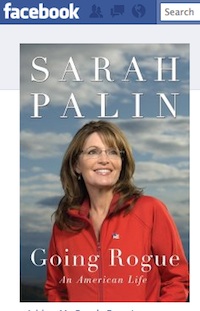 Besides keeping track of the Olympics and chastising Seth MacFarlane, Sarah Palin has found a new subject for her Facebook Notes section: talking about Barack Obama's health care plan.

In a note sent out several minutes ago, Palin wrote to her almost 1,500,000 fans:
The President's proposal doesn't include pro-free market ideas like allowing people to buy insurance across state lines, giving individual buyers the same tax benefits as those who get insurance through their employers, or instituting real medical liability reform. Despite the "kumbaya" rhetoric, Democrats are making plans to ram this bill through the Senate using a partisan procedural maneuver that will bypass the normal bipartisan debate process.
Without getting into the nitty-gritty of Palin's argument against the President's Proposal, it's the medium vs. message issue that we find so interesting in the former governor's outlet. Sarah Palin has always billed herself as being just a regular salt of the earth American, so a social-networking site (and we mean this unironically) is a natural choice to reach a populous, as opposed to a press conference or an editorial in The New York Times.
At the same time, Palin's rhetoric has gotten increasingly less folksy and more analytical…she's actually starting to sound like a politician, or at least someone who isn't going to slow down and explain to an average Facebook user what issues our current health care reform is facing. It's interesting: Sarah's doing her best to maintain her image as an "aw shucks" mom even as she's begun to speak like someone with a good grasp on our political system.
Have a tip we should know? tips@mediaite.com