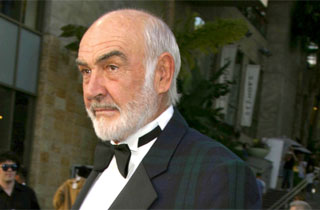 Despite the fact that Sean Connery is one of the most prominent men supporting Scottish independence — heck, that man is literally the walking human avatar of Scotland — he will not vote "yes" in the upcoming referendum.
His brother Neil told the Edinburgh Evening News that the 84-year-old actor, who lives outside of Scotland, couldn't make it back to the country to vote due to the fact that he's a tax exile who legally lives in the Bahamas. "There's only a certain amount of days Sean can be in the country for tax reasons, so I know that he intends to use them wisely," he told them, denying that his absence from the referendum had anything to do with his health: "Last I heard from him he was in New York. He's probably in better health than me!"
An insider for the Yes Campaign said that Connery couldn't come to Scotland and Scot it up due to health reasons, but regardless of whether Connery can plant his Scottish feet on Scottish soil, he wouldn't be able to vote anyways: only residents of Scotland can vote in the referendum, leaving over a million expatriate Scotsmen in the lurch.
The latest polling suggests that the nation is evenly split between Scotland becoming its own sovereign nation or remaining a part of the United Kingdom, with the "Better Together" campaign narrowly edging out the independence movement.
A victory for the Yes Campaign on Thursday would see the end of a formal union between Scotland and Great Britain, one that's existed since the formal merging of the country in 1707.
[The Edinburgh News]
[Image via carrie-nelson / Shutterstock.com]
—
>> Follow Tina Nguyen (@Tina_Nguyen) on Twitter
Have a tip we should know? tips@mediaite.com