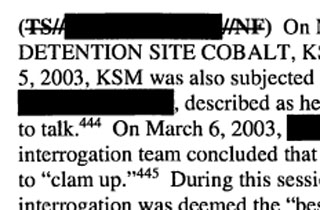 This morning, the Senate Intelligence Committee released the damning, contentious results of their investigation into the CIA's enhanced interrogation programs, not only releasing brutal and sickening details of how they treated their detainees, but also shocking revelations about how far the CIA went to cover their tracks.
The 525-page report includes an executive summary of the findings, which revealed that while the CIA's interrogation techniques were "brutal and far worse than the CIA represented to policymakers and others," they also were completely ineffective, created by inexperienced people with little to no expertise in interrogation, counterterrorism, or the Middle East.
For example, this:

And this: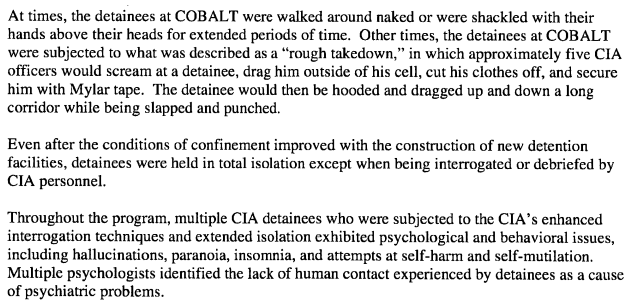 And even this, which shocked actual members of the Federal Bureau of Prisons, leading to their assessment that their methods would have "limited impact" on investigations: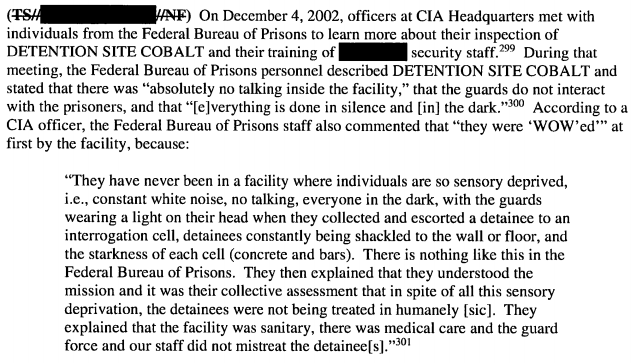 The CIA never kept track of how many detainees they subjected to enhanced interrogation:

An "unprepared" CIA basically made up the interrogation program as they went along…

…and placed inexperienced people in charge of these programs, with disastrous results. For instance, these two psychologists shouldn't create of an interrogation program, right?

Not only did these two psychologists eventually run the programs (the report describes it as the CIA "outsourcing" 85% of their operations to these men), they made hundreds of millions of dollars from it:

The deception was so thorough, that even then-President George W. Bush did not learn of the programs until 2006 — years after the programs began. And not only did the CIA and the White House coordinate to keep Bush in the dark, they refused to inform key Cabinet members as well: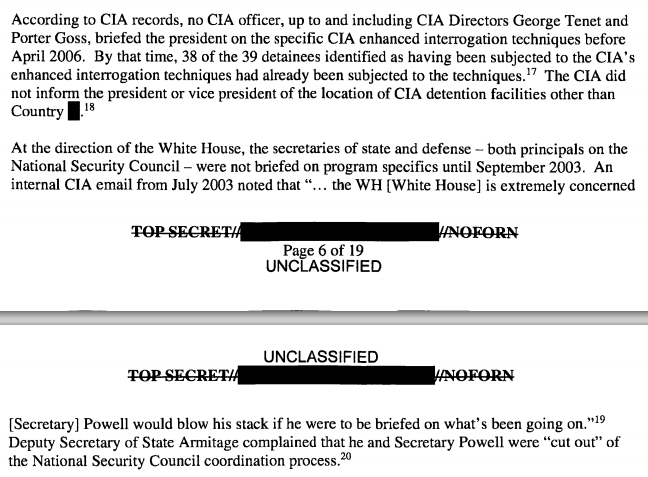 They also led a campaign to deceive the media through strategic leaks:

And, apparently, the writers of Zero Dark Thirty, who infamously claimed that enhanced interrogation led to the death of Osama bin Laden: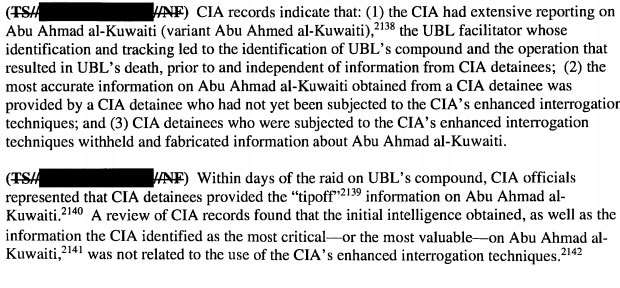 Read the full report here via the Senate Intelligence Committee. Trust us, it's way more detailed.
[Image via screenshot]
—
>> Follow Tina Nguyen (@Tina_Nguyen) on Twitter
Have a tip we should know? [email protected]