Senatorial Candidate Ken Buck Caught On Tape Calling Tea Party Birthers "Dumbasses"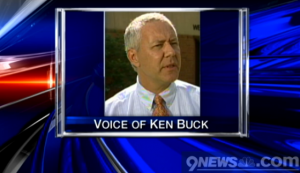 Ken Buck, Republican candidate for Senate in Colorado, has enjoyed support from the Tea Party movement in the past, recently telling a attendees of the Independence Institute's Alcohol, Tobacco and Firearms party that the Tea Party is one of the "great things Obamas given us." However, he may be at risk of losing a chunk of that support after a Democratic Party worker caught him on tape calling Tea Partiers who are also Birthers "dumbasses"in June.
The exchange took place after Buck attended an event in Pueblo on June 11th. While there, the question of President Obama's citizenship had came up. Buck had ignored that question at the time but the recording shows that he was clearly annoyed by it. Later, he ran into the campaign worker who had been at the earlier event. Not knowing that the worker had a tape recorder in his pocket, Buck initiated the following exchange (the beginning of which seems to reference an earlier conversation between the two):
"Buck: Hey Buddy
Democratic Worker: Is this going to be held inside?
Buck: You said you can't talk when you're on camera? What do you mean?
Democratic Worker: I just don't answer your questions.
Buck: Ok
Democratic Worker: Is this going to be going on inside?
Buck: Will you tell those dumbasses at the Tea Party to stop asking questions about birth certificates while I'm on the camera? God, what am I supposed to do?"
Buck quickly spoke to both the Denver Post and 9News to clarify his comments. From 9News:
Asked about the comments on Sunday at a political rally in Adams County, Buck said he wishes he had used different language and that he had not lumped all Tea Party members into one statement, but that he remains frustrated that some people are focusing on birth certificates rather than the country's $13 trillion debt and its $100 trillion in unfunded liabilities.

'The language is inappropriate,' he told 9NEWS and The Post. 'After 16 months on the campaign trail, I was tired and frustrated that I can't get that message through that we are going to go off a cliff if we don't start dealing with this debt.

'It is not the Tea Party movement on the whole. The Tea Party movement gets it. It's the Constitution, it's the debt, it's the other issues, but there are a couple people that are frankly frustrating for all candidates. I mean if you talked to other candidates and they're being honest with you, they'll say I know that. Now, they may not have used my choice words, but they have the same feelings.'"
While Buck is trying to downplay his comments as just being about Birthers, the phrasing seeks to imply that he thinks of himself as outside of the Tea Party at the very least. It will be interesting to see if the recording affects his standings in the polls. It's safe to say he'll probably lose the support of people in Colorado who do still question Obama's birth certificate, but he better hope the rest of the Tea Party doesn't follow suit. He is currently in the lead over Republican opponent Jane Norton.
9News has released the entire tape (and I mean "entire," hope you like knowing what radio stations the Democratic worker listened to in the car). We've got the edited version featuring just the section in question below.
Have a tip we should know? tips@mediaite.com