Sexy Russian Spy Video Interview: She Infiltrated New York Entrepreneur Week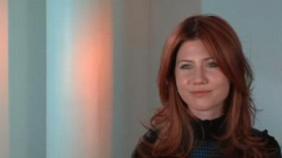 That sexy Russian spy, Anna Chapman, is everywhere this week, with pictures and excerpts from Facebook showing up throughout the media.
But Mediaite has obtained a never-before-seen video of Chapman talking about how great a time she had at New York Entrepreneur Week (she attended in November and April). We have a feeling you'll be seeing this a lot.
So here's the deal – Chapman went to NYEW in November and enjoyed it. A production company, And Now Media, was putting together a video of attendees at the November event describing how good a time they had, in anticipation of the April event. Chapman was interviewed (wonder why? hint – sexy spy), but the footage wasn't used. She later attended in April. We hear she was quite aggressive in expanding her network and making contacts.
Fast forward! According to Chapman, as you'll see in the exclusive video below, she is starting a company called "Property Finder" although that is "just a corporate name." She's the founder. What she says in the video, which was filmed February 24, she wants to buy the domain name NYCRentals.com. Well this is an active site. There's a number listed, but no one's picking up today. Intriguing. Maybe someone should go spy on them? If you're in New York, the address is 20 Exchange Place.
Anyway, here are some quotes from the 10-minute interview (with the benefit of hindsight – wow). And below, the full video:
• Her company – "It's a very new start-up. We started working on it last month, and I was trying to figure out business model and trying to find my co-founders in New York."
• About New York – "It's a place where during difficult times and the crisis everyone comes together and says hey what are you waiting for let's do it."
• This exchange – Q: "What have you learned mingling with these other entrepreneurs?" A: "I've learned it's a difficult situation for everyone. Entrepreneurship is all about solving problems."
• About the people she met – "They were actually really useful in what they had to say…now I know where to go if I have something to solve."
Check out the video:

» Follow Steve Krakauer on Twitter
Have a tip we should know? tips@mediaite.com