SF Chronicle Voices Disapproval With Obama Campaign: 'Shouldn't Expect Praise For Openness, Candor And Transparency'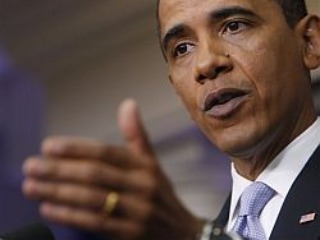 Back in April, the Obama administration made it extremely clear that it disapproved of the fact that Carla Marinucci, a reporter for the San Francisco Chronicle, had published video of a private fundraising event she had attended. Now, the President is touring the West Coast and campaigning to his base at the homes of wealthy supporters like Facebook COO Sheryl Sandberg— that last one an event only national pool reporters were permitted to cover. In other words: No reporters from the Chronicle or other local news papers are able to attend.
And, as Turnstyle News reports, Marinucci would like an explanation about why that is:
We haven't gotten any public statements from the White House on why no local reporters from any paper were allowed to cover the events this week. And I think that is the question that maybe they need to answer. Whether it's the Chronicle, the Mercury News, or the Oakland Tribune someone from the Bay Area who knows the faces and people at these events in the public interest should be allowed to tell the public what's going on in private fundraisers, especially since the Obama administration promised they would be transparent at such events.
The Chronicle, for its part, made its disappointment known, publishing an editorial piece this week noting the absurdity at play in having an administration call itself "open" while it simultaneously bars certain journalists or outlets from participating in and covering events:
The White House can draw the rules as it wants. But it shouldn't expect praise for openness, candor and transparency with moves like this one. While a pool reporter from the regular White House media may be in attendance, local journalists are much better equipped to identify the contributors who are attending high-priced fetes.

These are not private events – not for a campaign that is talking about a $1 billion re-election, and not when people are writing checks of up to five figures to curry favor with the administration.
h/t Turnstyle News
Have a tip we should know? tips@mediaite.com