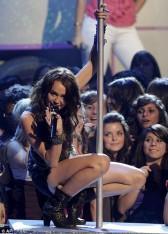 In 2000, Britney Spears shocked VMA viewers when she grinded up against the stage in a nude ensemble dusted with sparkles, proving she was far from innocent.  From a distance, Spears looked like a naked teenager.  She was nineteen years old.  And still, she said, a virgin.
In April of 2008, tween sensation Miley Cyrus posed for Annie Leibovitz in what became an extremely controversial spread in Vanity Fair. It featured Cyrus, then sweet 16, covered only by a sheet, exposing her entire back.  Parents feared for what such images would do to their fanatic 12-year-old daughters.  A Disney executive was quoted in a New York Times article fearing for Cyrus:  "Parents have invested in her godliness. If she violates that trust, she won't get it back."
But she did.  And following the spread, Miley's album "Breakout" sold over 371,000 copies In its first week, and debuted at number one in  the US Billboard Charts.  By October, Miley had gone Platinum.
And then came the stripper pole.
Monday's Teen Choice Awards featured Miley singing her newest single, "Party in the USA."  In nothing but a skimpy top, dangerously short shorts, and black biker-esque boots, the 17 year old gyrated her hips suggestively amid a sea of other, equally provocatively dressed dancers.  Then came the big bang.  After being escorted downstage by a fellow male dancer, Cyrus climbed an ice cream cart, from which a stripper pole had been strategically placed.
Her red carpet ensemble was no better.  After picking up some tips from her spread in Elle's August issue, Miley showed up in her new biker-rocker look, fully equipped with a black sparkly mini, white tank top, and too many chain necklaces.  A once cute, pure Miley appeared trashy and inappropriate.
SLIDESHOW: Miley Grows Up
The Leibovitz spread may have been in the name of art, but there was nothing artistic about cavorting around a stripper pole on an ice cream cart in shortie-shorts doing oversexed dance moves.  Miley's fame and fan base will not be affected by Monday's dance.  "Party In the USA" debuted at number 40 on Billboard's Top 40 and following the performance was the number 1 song on iTunes.  But the shift into overdrive of Miley's sexualization cannot go unnoticed.  From Leibovitz all the way to the stripper pole, this girl is growing up fast. Or being grown up fast. The Teen Choice Awards.  The events title tells it like it is:  What the teens want.  Who they want to hear, and what they want to see and this time, they wanted to see Miley with a pole.

Follow Ruthie Friedlander on Twitter!
Have a tip we should know? tips@mediaite.com