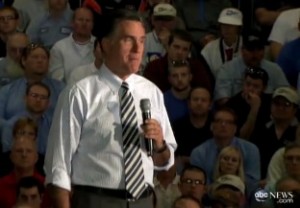 Republican presidential candidate Mitt Romney was an early adopter of the crass politicization of the tragic killings in Benghazi, Libya on September 11 of this year, but he's finally hit a roadblock. Barbara Doherty, the mother of former Navy Seal Glen Doherty, who was killed in the attack, reacted strongly to Romney's use of her late son in a campaign speech Tuesday, saying "He shouldn't make my son's death part of his political agenda."
The Romney campaign has agreed to respect Mrs. Doherty's wishes. From ABC News:
"He shouldn't make my son's death part of his political agenda. It's wrong to use these brave young men, who wanted freedom for all, to degrade Obama," said Barbara Doherty, the mother of the slain Navy Seal Glen Doherty.

She added, "I don't trust Romney."

A Romney aide told ABC News today that the Republican candidate will respect Mrs. Doherty's wish and stop telling the story on campaign stops about how he met Doherty a few years ago.

"Gov. Romney was inspired by the memory of meeting Glen Doherty and shared his story and that memory, but we respect the wishes of Mrs. Doherty," campaign spokesman Kevin Madden said.
The report goes on, however, to note that two of the late Glen Doherty's friends, who were with him when he met Romney, gave less-than-glowing accounts of an insincere politician:
"He said it was very comical," Ellefsen said in an interview with radio station KIRO. "Mitt Romney approached him ultimately four times, using this private gathering as a political venture to further his image. He kept introducing himself as Mitt Romney, a political figure. The same introduction, the same opening line. Glen believed it to be very insincere and stale."

"Honestly it does make me sick," Ellefsen  said in the interview with KIRO's Libby Denkmann. "Glen would definitely not approve of it. He probably wouldn't do much about it. He probably wouldn't say a whole lot about it. I think Glen would feel, more than anything, almost embarrassed for Romney. I think he would feel pity for him."
Fellow former SEAL and friend Brandon Webb, though, remembered the encounter more good-naturedly:
"Glen and I both gave him a hard time when he reintroduced himself to us a second time. Mitt took it well and we all had a good laugh about it," said Webb, managing editor of SOFREP.com, for which Doherty was a contributing writer.

But he remembers Doherty being respectful about Romney.

"Glen was very respectful about our encounter with Mitt Romney. That was the kind of guy Glen was. He respected everyone regardless of their differences and that's what made him such a great human being," he said.
Romney's recounting of his encounter with Doherty was actually quite moving, despite it's placement in a campaign speech, but it all fell apart at the end when he used it as a segue into a lame slogan about "making a choice with clear eyes" and "tak(ing) back this country."
For what it's worth, when I met Romney a few years back, he was a great deal more personable than other politicians I've met, and his words about Mr. Doherty carried a recognizable emotional inflection. It's possible that, while his recollection of the meeting seemed sincere, Romney's just missing that limiter switch that stops him from saying, "So let's take back this country!" when he should just let it be.
Here's video of that portion of the speech, from ABC News:
Have a tip we should know? tips@mediaite.com