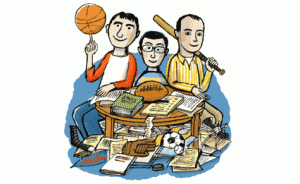 Who: Josh Levin, Mike Pesca and Stefan Fatsis, with guest- Nate Silver
What: Slate's Hang Up and Listen, Live!
Where: City Winery
When: January 17, 2012
Thumbs: Up
"I don't want it to sound like a tautology" isn't the kind of concern audibly shared at most sports panels, but while explaining how bad defenses play bad defense leading to bad results on Slate's live "Hang Up and Listen" podcast, that was exactly what Mike Pesca was worried about. Rather than describe or comment on the action, their first discussion of the evening focused on whether the playoffs were too "irrational." Logic and reason continued to play a significant role in their analysis. Stefan Fatsis sat at his laptop and quoted DVOA — Tim Tebow hadn't just played another game, he'd widened his sample size — and Pesca railed against the "logical fallacies" in comparing arbitrary statistics.
All of that meshed perfectly with the addition of Nate Silver to the panel for an interview segment. Silver was choppier when discussing himself and his own progression, but became more animated and passionate when the discussion turned to his work with statistics and prediction models both in sports and politics. Just as Hang Up and Listen's discussions shied away from stereotypical sports blowhard culture, Silver diverged from the pomposity of political punditry. Silver focused a great deal on explaining the limits of statistics, how important it is to know those limits exist, and accepting them. He cited his 2008 numbers which gave Hillary Clinton a 16% chance to win New Hampshire (as opposed to the 9% other polls were running.) On the one hand, he was 7 points higher than others; on the other hand, he had still only predicted a 16% chance.
The evening closed with a discussion on coaches. Here, too, the back and forth did not hinge on any particular coach, but asked the background question "Do coaches carry too much importance in our society?" Fatsis discussed his own experience coaching his daughter's youth soccer team, and Josh Levin wondered whether college coaches were basking in the reflected veneer from youth coaches. Pesca called out football announcers for treating college coaches like ethical leaders, making explicit the division between Hang Up and Listen and mainstream sports coverage, a chasm that was implicit throughout the entire podcast taping.
What They Said
"They are, in audio form, what Slate aspires to be in print every day."
– Slate's Editor, David Plotz, introducing the live podcast.
"Some precedent is always broken, if you define things narrowly enough… eventually every player is a special snowflake"
– Nate Silver would have a problem with us claiming that this is the best Nate Silver quote to ever run second in the Panel Nerds' "What They Said" section. In January.
"The enlightenment triumphed" – Josh Levin's take on the Patriots sound defeat of the Tim Tebow led Denver Broncos
– Stefan Fatsis views Bill Belichick as a modern day Thomas Aquinas.
"You develop fluency… If you've learned Spanish, you should be able to learn Portugese."
– Nate Silver's analogy for how he used his baseball modeling in politics.
"It's actually reasonable"
"No, it's not. It would be reasonable if it were true"
– Stefan Fatsis and Mike Pesca debate the NFL's explanation of the Greg Jennings non-fumble fumble.
What We Thought
The podcast did an excellent job of taking advantage of the live format, giving their live audience more than the people listening. For different segments, they had queued up video clips to show the crowd what they were referring to. The extra effort made being there more special.
Another thing that made being there more special is City Winery itself. We'd been there before, but we were again reminded how beautiful a space it is. If you're in New York and have never been there, you should go.
As long time listeners of the podcast, we had imagined a mental picture of each correspondent. Incredibly, each member of the trio, matched our imagination and their roles on the podcast perfectly. Pesca and Fatsis faced each other, flanking Levin, seeming like a pocasting odd couple. Pesca, burlier, leaned back in his chair, freely sharing quips and jokes while Fatsis sat across from him, slighter, more serious, sitting at the front of his chair, with the kind of perfect posture from beginning to end that would make our mother proud.
PANEL RULES!
Some audience behavior seems to repeat itself panel after panel. We'll be updating a running list of "PANEL RULES!" that will help ensure that you are not the dweeb of the Panel Nerds.
Panel Nerds don't like…The Look Through
We've all been in conversation with someone in a crowd and we see their eyes search the room for other people to talk to rather than engage in the conversation at hand. Don't ask the panelists if there are other Slate podcasters in the audience. Don't look through them! Enjoy the podcasters sitting there in front of you.
Have a tip we should know? tips@mediaite.com