Glenn Beck Is The Next To Slam SOPA: 'They Will Shut Down Voices Like Ours!'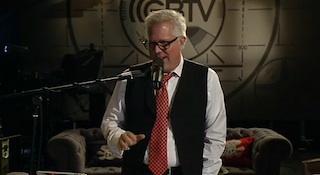 For the past few weeks, we've been hearing about how dangerous the heads of various Internet giants feel SOPA and PIPA are. However, now it's time to hear from a newer Internet entrepreneur; Glenn Beck. However, while Beck may be greener to the Internet game, he's being no less forceful in his condemnation of the laws.
Beck argued that we can't give the government any more power, especially over the Internet which he described as "the only thing left that works." He continued, asking his listeners to get involved.
"I would urge you to call your Congressman, your Senator, call anybody you can. Reach out to all of your friends. Hands off the Internet. Hands off the Internet. I'm telling you, this is a backdoor. I don't know what it is but remember when I told you, 'They're building structure! You can't let these things pass.'"
Later he talked about the importance of free communication and the dissemination of ideas.
"It's a different world we're going into but it's all based on the Internet. It's all based on these connections. If you start limiting the connections, you're going backwards as a society."
It shouldn't be surprising what Beck's feelings are. Not only is he in charge of a few Internet start ups, the idea of unfettered government control of the media seems about as anathema to the Beck brand as can be. And, while Beck began his discussion by noting that "it doesn't seem like anyone's for this thing," he's one of the first big anchors to really attack it, following only people like the likes of Keith Olbermann.
Hmmm. The only news people who have been able to come out against SOPA are people like Beck and Olbermann. I wonder why that is…
Watch the video from GBTV below:
Have a tip we should know? tips@mediaite.com