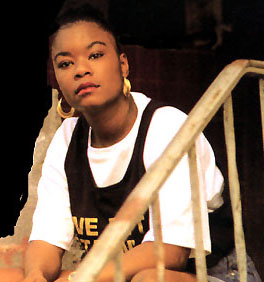 Slate's Ben Sheffner read the "feel good story of the summer" in the New York Daily News — the tale of how '90s rapper Roxanne Shanté got the slippery suits at Warner Music to pay for her $200,000 Ph.D. education — but he couldn't just be happy about it. Instead, he had to pretend to be a journalist (he writes for a website!) and check out the facts, thereby disproving the entire article in the process.
For the one week it seemed true, even the blogs — you know, the ones built on snarkiness and negativity — enjoyed the story. Un-ironically! A thread on the normally vicious celeb-centric LiveJournal community Oh No They Didn't logged page after page of positive comments ("Get it girl," read the first). Meanwhile, Gawker — under their "Things We Actually Like" tag — called the story "heartwarming" in a post entitled "Roxanne's Revenge," also the name of the rapper's biggest hit.
You see, to hear the Daily News tell it, Roxanne (née Lolita Shanté Gooden) scored a recording contract in the early 1980s with "sleazy" Warner Music, who tried to swindle the seminal hip-hop star out of her royalty money. And so to get back at the bigwigs, Roxanne exploited a "forgotten clause" in her contract that said Warner would "fund her education for life." She says she ran up a bill of over $200,000 completing her undergrad at Marymount Manhattan College and her Ph.D. in psychology at Cornell. But Slate fact-checked the piece, and not only do Marymount and Cornell have no record of the star's degrees, but Warner denies that part of the deal ever existed.
"New York state records indicate that no one named Lolita Gooden or Roxanne Shanté is licensed to practice psychology or any related field," says Sheffner's buzz-killing roast of both "Doctor" Roxanne and the paper who peddled her story. The truth-obsessed writer notes on his personal blog that "something just didn't smell right," and lo and behold, it was all straight stink.
While the News freelancer who penned the original piece has not responded to request for comment, the paper has said they will "look into it." Shanté has given the following response to Lemondrop.com:
"I'm just gonna let it go … What he's trying to do is trying to get himself known, to get the popular sites to read after him. This is not a $5 billion Ponzi scheme. What would make someone go so hard and heavy at that?"
Have a tip we should know? tips@mediaite.com