Sleeping With The Enemy: Media, Politicos, Once Adversaries, Now One Big Incestuous Circle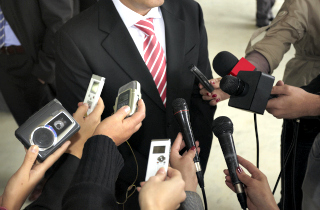 A long time ago in an America far, far away (some call it "the seventies"), there were only six channels to choose from on your television dial.
So in terms of actually getting on the air at one of these stations, the competition was obviously fierce due to the limited options presented to aspiring anchors and reporters looking to break in. It basically went like this: Either someone had to die or embarrass themselves on the level of going streaking through the quad in order for a position to open up in the national news media. Those who couldn't climb the ladder to a coveted network position instead had to settle for working in small markets, thereby earning the kind of salaries that didn't put them in the top 1 percent (or the top 80 percent for that matter).
Needless to say, it was a tough time to work in media.
These days, there's 24/7 cable news and a rocketing number of online newscasts. In the '70s, there was one nightly newscast that lasted 30 minutes. Today, there are approximately 15 hours (MSNBC) to 17 hours (Fox News) of original programming to choose from on a given weekday. And with that many hours comes plenty of opportunity to host a show, join a panel or serve as a guest/contributor. Good times…
In sports and sports media, color commentators are invariably ex-athletes. For every play-by-play guy like Jim Nantz, there's a Phil Simms (NFL), Clark Kellogg (NCAA Basketball) or Nick Faldo (golf) working with him.
In politics and news media, the same rule applies. In fact, it's almost now automatic that senior officials, speechwriters and campaign strategists will jump from relatively low-paying jobs in government to seemingly endless riches offered in television. And there always seems to be enough room, enough hours to fill, to keeping adding for a former administration official or manager to the roster.
For every David Axelrod and Robert Gibbs (Obama officials now at MSNBC), there's a Dana Perino and Karl Rove (Bush 43 officials at Fox). For every Mike Huckabee (ex-Arkansas GOP Governor at Fox) there's a George Stephanopoulos (top aide to Bill Clinton) or David Gergen (adviser to Nixon, Ford, Reagan, and Clinton now at CNN).
The trend can go the other direction as well: Jay Carney was once the Washington Bureau Chief for Time Magazine, now he's White House Press Secretary (who incidentally is married to Claire Shipman, a senior national correspondent for ABC News). The late Tony Snow went a similar route, jumping from Fox to the same position under Bush 2.0.
With the line between politics and media more blurred than ever before, the chance of conflicting interests coming to fruition rises considerably. And with so many different people from one walk of life (politics) involved in an increasingly competitive industry (television), butting heads is fast becoming less the norm and more the exception.
For a most recent example of this perspective, please see Exhibit A and B: The Rhodes brothers, Ben and David.
Ben Rhodes—who somewhat ironically owns a master's degree in fiction writing—is the current deputy national security adviser for strategic communication for the President. Prior to his current capacity, he was a speechwriter for Mr. Obama, primarily responsible for writing foreign policy speeches. His wife (Ann Norris) is senior foreign policy and defense advisor to California Democratic Senator Barbara Boxer.
David Rhodes is the President of CBS News and has held that position since early 2011.
According to Steve Hayes of The Weekly Standard and a regular panelist on Fox News' Special Report, Ben reportedly changed CIA talking points on Benghazi to remove references to Islamic terrorists in an attempt to deflect blame away from Al Qaeda and the Administration, and altered "attacks" to read as "demonstrations".
To the latter, Hayes also reports Rhodes was also primarily responsible for the talking points which blame an anti-Muslim video, a story Susan Rice used on five Sunday shows days after the attack. The columnist concludes that Rhodes and the Administration officials "knowingly misled the country" in the days following the attacks.
Meanwhile, at David's CBS News, Sharyl Attkisson–arguably the network's most respected investigative reporter—was recently called in a Washington Post headline, "…a persistent voice of media skepticism on Benghazi." She's earned this distinction after breaking a story that a special military team—who could have attempted to rescue Americans in Benghazi under heavy attack—was told to stand down by Administration officials.
The White House—not terribly accustomed to anyone outside of Fox (until this week) asking hard questions on Benghazi—has allegedly complained to CBS about Attkisson's reporting. This isn't anything new: The 52-year-old reporter was also the center of negative attention following her reporting regarding Fast & Furious. Complaints have become so amplified that it has reportedly caused a fallout between (David) Rhodes and Attkisson.
Consequently, Attkisson is also reportedly trying to leave before her contract with CBS is up, according to Politico, who also says CBS executives think Attkisson is "wading dangerously close to advocacy" in terms of her reporting on the Benghazi issue. Of course, those same executives didn't voice the same concern when Attkisson won an Emmy for hammering the Bush (43) Administration in a report on bank bailouts.
So let's add it all up:
We have Ben Rhodes becoming a key figure at the center of the growing Benghazi controversy.
We also have a decorated reporter working under David Rhodes at CBS making life miserable for Ben…the same reporter who is now trying to leave after 20 years with the network.
So…will it be an uncomfortable situation at a certain Mother's Day dinner table?
Rhetorical question…
And so it goes in the world of politics and media.
Back in the same seventies, one could argue that politicos and members of the media were adversaries.
Now forty years later, they've become stepping stones to each other.
[image via Shutterstock]
— —
Follow Joe Concha on Twitter @ConchSports
Have a tip we should know? tips@mediaite.com