Someone Is Pretending to Be John Bolton on LinkedIn to Get Nat'l Security Contact Info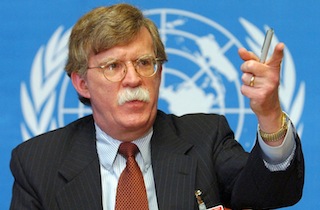 Here's a bizarre one: Steve Clemons, a foreign policy blogger, was contacted by an internet scammer not claiming to be a Nigerian prince or a famous actress but former U.N. Ambassador John Bolton—and the perpetrator had done their foreign policy homework.
It all started when Clemons received a LinkedIn invitation from Bolton, which was notable as the two don't have the most collegial history. Clemons then noticed that Bolton's bio was a bit off, including an explicit reference to supporting the Vietnam War. Yet the bio pointedly rejected the label of "neoconservative," which Bolton was likely to do, though (and perhaps because) he is often grouped with neocons. "Whoever was writing this descriptive text about Bolton was not uninformed," Clemons wrote.
More out of curiosity than anything, Clemons accepted the invite, and then got an email requesting further information that appeared to have been written by Bolton's assistant, Christine Samuelian. Again there were warning signs, this time in the grammar, which was in the inimitable prose style known as Suspicious Email. By now Clemons just wanted to see where the scam was leading, and responded with a double-protected email address, at which point the scammer plied for more info.
Clemons contacted Bolton's office to inform them of the scam:
I immediately let John Bolton's staff know what was up — that someone had put together a somewhat sophisticated play to get other national security and foreign policy practitioners to share their information. There was no request for financial information. These criminals seem to want access to data bases, emails, names, phone numbers.

So I remain hopeful that I will one day be able to have a great and robust exchange with John Bolton about US foreign policy and the challenges the nation faces — but the lesson here is that if you get a note from Ambassador John Bolton reaching out, beware.
[h/t Washington Note]
[Image via AP Photo/Keystone, Laurent Gillieron]
——
>> Follow Evan McMurry (@evanmcmurry) on Twitter
Have a tip we should know? tips@mediaite.com