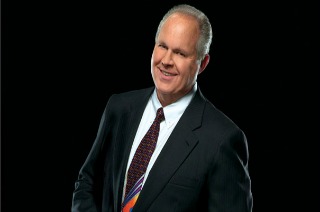 The liberal blogosphere is enjoying an upbeat Monday after POLITICO's Dylan Byers reported over the weekend that one of the nation's largest radio networks, Cumulus Media, plans to drop the radio programs of Rush Limbaugh and Sean Hannity by the end of the year. Cumulus has cited the fallout resulting from Limbaugh's calling reproductive rights advocate Sandra Fluke a "slut" in early 2012 which has depressed advertising revenue. The network is reportedly balking at paying the syndication costs that Premiere Networks demands to broadcast those programs – among the highest rated talk radio shows in the nation. The latter excuse, however, is more likely to be causing friction between the two radio networks than the former. The latest public kerfuffle between the two companies is more likely to be a part of public negotiation between Cumulus and Premier over licensing costs than an admission that being associated with both hosts is politically toxic. This latest update is in fact an extension of the same battle over distribution pricing which has been ongoing since the spring.

According to an "industry source," Byers reports, "Cumulus has decided that it will not renew its contracts with either host, the source said, a move that would remove the two most highly rated conservative talk personalities from more than 40 Cumulus channels in major markets."
He adds that ongoing negotiations between Cumulus and Premier, the division of Clear Channel Communications which syndicates both programs, have broken down over the costs of distribution rights.
If Cumulus were to drop the Limbaugh and Hannity radio programs, Byers writes that it would be a "major shakeup for the radio industry."
RELATED: Major Radio Broadcaster Planning To Drop Limbaugh, Hannity At End Of The Year
The political opponents of those radio commentators are celebrating over a perceived victory:
"The boycotters did it," Politicususa.com's Jason Easley writes. "They got Limbaugh off of Cumulus."
"Hate programming doesn't pay," declared Media Matters for America's Eric Boehlert.
But reports in the New York City area – where Cumulus' largest station, WABC, currently syndicates both Hannity and Limbaugh – have indicated since the spring that Clear Channel's WOR will pick up both programs if they are released by Cumulus.
The story would be the same in other major markets where Clear Channel stations would become the syndicated homes of both conservative broadcasters, leaving Cumulus to syndicate lower rated hosts or develop their own local talent. This means fewer listeners and less revenue at a time when Cumulus CEO Lew Dickey himself insists that the flagship stations he operates are only beginning to show growth again. At least, that is the hard bargain that Premier and Clear Channel are driving.
"A story like this always seems to pop up around the quarterly earnings call (Cumulus reports tomorrow at 11AM)," reads Radio Ink's report on Byers' story. A source within the industry told Mediaite that many of Limbaugh's advertisers were fleeing the program on May 6. Dickey held the first quarter earnings call with investors on May 7. "However, a source tells Radio Ink nothing has been decided and a deal could even be worked out in the next month or so."
On May 14, American Spectator's Jeffrey Lord detailed the variety of ways in which Cumulus has been struggling to retain talent, which has likely contributed to its earnings troubles. "[Lew and Cumulus COO John Dickey] have pocketed millions while cannibalizing what were wonderful radio stations built over decades by the hard work of others, and wiping out staff, while blaming others for the company's poor performance," Lords writes. "Give the Dickeys this much: they know how to ring that Pavlovian bell and stoke liberal bloggers. But the day will come when propaganda — such as repeatedly ringing the Sandra Fluke bell for gullible journalists or left-wing activists responding like so many of Pavlov's dogs — won't fly."
In the end, sources close to Mediaite say that — while Limbaugh and Hannity's syndication deals are distinct and one's fate is unlikely to be tied to the other — Cumulus will not cut off it's nose anytime soon. "It's damaging to everybody's business that this nonsense goes on," a radio insider told Mediaite of Cumulus' affinity for negotiating in public.
"[M]y guess is that Limbaugh and Hannity have the upper hand," reads The Week's editorial on the controversy. "If Premiere asks too high a price from Cumulus, Clear Channel can't really then pay Limbaugh and Hannity less than its subsidiary was demanding."
Those organizations that have been, largely without success, trying to force conservative broadcasters off the air by targeting their advertisers with boycotts are now latching on to what is most likely a series of public negotiations over syndication costs to show that their efforts have not been in vain. That is a show of desperation, not efficacy.
> >Follow Noah Rothman (@NoahCRothman) on Twitter
Have a tip we should know? tips@mediaite.com