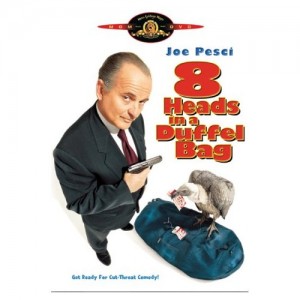 Sometimes you read a headline that makes you feel like you've somehow left the real world and entered a movie of some kind. And sometimes that happens and you really wish you were in a different movie. This is one of those times. NBC Dallas-Fort Worth is reporting that a Southwest Airlines employee popped open an improperly labeled shipment to discover 40-60 human heads.
We can only presume that, somewhere, 40-60 headless bodies are sitting in baggage claim anxiously looking at their watches…Well, not looking, obviously.
Here are some money quotes from what is easily the weirdest news article we've read all week:
"Little Rock police turned the package over to the county coroner, who questions where they came from and if they were properly obtained.
'We've come to the conclusion that there is a black market out there for human body parts for research or for whatever reason,' said Pulaski County coroner Garland Camper. 'We just want to make sure these specimens here aren't a part of that black market and underground trade.'
The heads were being transported to the Fort Worth office of Medtronic, a leading medical research and technology company based in Minnesota.
Medtronic spokesman Brian Henry said it is common to ship body parts for medical education and research, but he said it is rare for a shipment to be seized.
You've got to ask yourself, which is more horrifying: that there is a profitable black market our there selling human heads, or that it's totally common occurrence for a shipment like this to be sitting in the back of the planes you board?
"Company founder Janice Hepler did not return phone calls Wednesday. Her voice mail indicated it was full and no longer accepting messages.
But in an earlier interview with the Arkansas Democrat-Gazette, she blamed the problem on the private courier she had hired to transport the body parts.
'Nothing is wrong,' the newspaper quoted her as saying. 'We're providing the documentation.'
But the coroner said the paperwork has 'discrepancies.'
Federal law generally prohibits the sale of human body parts, although suppliers can be reimbursed for expenses in cases of legitimate medical education or research.
'It is a lucrative business. There is money to be made," Camper said. "We're hoping that this isn't the case.'"
Amazing.
We know it's a pretty tough job market out there so, if any of you are looking for an exciting new career, might we suggest illegal human head salesman? It's fun, you get to meet 40-60 new faces every trip, and it pays well if you sell in bulk. Just remember to label your shipments properly and you're good to go!
(h/t Drudge)
Have a tip we should know? tips@mediaite.com