Spotify Creates Sad Breakup Message Mixtape in Response to Taylor Swift Pulling Her Songs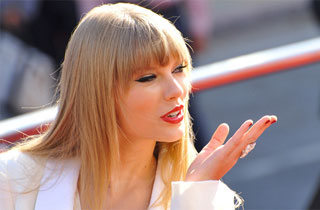 Taylor Swift's new album 1989 recently went platinum, the only album in 2014 to reach that milestone and maybe even the last album to go platinum ever, if you believe the alarmists out there. And she doesn't need no Spotify to do it — today, she abruptly yanked all her music off the online radio service, leaving Spotify heartbroken and sending her pathetic mixtapes in an attempt to win her back.
The move was a long time coming — in July, Swift published an op-ed in the Wall Street Journal decrying businesses that attempt to give away music for free — but Spotify, like a jilted ex, is all You belong with meeeeeeee.
"We love Taylor Swift, and our more than 40 million users love her even more," they wrote on their Xanga company blog. "We hope she'll change her mind and join us in building a new music economy that works for everyone."
And then, like a teenage girl who quotes Taylor Swift lyrics to get her boyfriend to love her again, Spotify did this:
PS – Taylor, we were both young when we first saw you, but now there's more than 40 million of us who want you to stay, stay, stay. It's a love story, baby, just say, Yes.
And, like the creepy guy who tries to pull a John Cusack in Say Anything while wearing his fedora, they made some playlists to express their sadness and the depth of their devotion.
And can you find the hidden message in this playlist, entitled "Playlist Poetry for Taylor Swift"?
Random question, which song on 1989 is secretly about Swift breaking up with Spotify?
[h/t Jezebel]
[Image via Featureflash / Shutterstock.com]
—
>> Follow Tina Nguyen (@Tina_Nguyen) on Twitter
Have a tip we should know? tips@mediaite.com