Staffers of Color Are Walking Away From the RNC and Rumors Say It's Because of Trump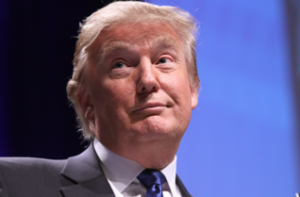 Donald Trump's relationship with voters of color has been a contentious one. There have been gaffes that he has ignored by insisting over and over again how beloved he is in the black community. That assertion gained more credibility when the National Black Republican Association endorsed Trump for president, but other powerful black political leaders are not as interested in riding the Trump Train.
Republican National Committee's Director of African American outreach, Kristal Quarker-Hartsfield, is leaving the organization. Quarker-Hartsfield will leave her position tomorrow, not even a full month after Orlando Watson, the former Republican National Committee's Communications Director of Black Media, walked from his post, according to NBC.
They put it like this:
[T]here is sure to be buzz that yet another high-level African American departure is connected to the rise of Donald Trump and the split in the Republican party – joined with a growing unease around Trump's likely nomination.
Quarker-Hartsfield has been quiet about her departure, but her team insists that it has more to do with her new job than any dissatisfaction with the RNC. Whether that is true for Watson or for two other high-ranking staffers of color within the organization, Tara Wall and Raffi Williams, is not known, but NBC is clear that they're sure there will be Trump-related rumors.
When he left, Williams told The Huffington Post, "I left because I was just ready for something new. They were good to me, they treated me very well and I have no complaints about the place."
That hasn't stopped NBC or HuffPo from speculating.
[image via screengrab]
For more from Lindsey, follow her on Twitter.
This is an opinion piece. The views expressed in this article are those of just the author.