Stars of Dystopian Thriller Handmaid's Tale Talk Trumpian Parallels: 'Now We're Really There'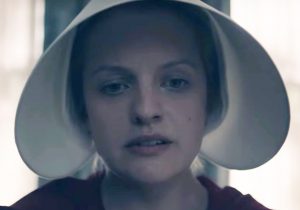 Book lovers the world over have loved Margaret Atwood's dystopian novel The Handmaid's Tale since its release in 1985. The book, which follows a female character who lives in a totalitarian theocracy where women are stripped of their rights and agency, is being made into a series for Hulu starring Elisabeth Moss and Samira Wiley.
The two of them gave quotes to Cosmopolitan after the release of the first trailer for the series.
Moss explained,"There are obvious similarities to what's happening now, but it goes back much further than that. Margaret [Atwood] told me she wrote the book as a response to things that were happening in the world. They might not have been happening exactly like that in the United States, but they were happening."
Wiley, too, observed that there are parallels to current events to be found in the series.
"When we first started filming, we just all felt so honored to be part of the project. And then, with the people running for President we felt like, 'Oh wow, this is even more relevant.' Then after the election, it was like, 'Now we're really there.' We felt that on set," she said.
Wiley, who recently got engaged to her girlfriend, expressed fear that under President Donald Trump, rights could be taken away from marginalized groups, like the LGBT community. She said, "But I also want to live in the present and know that nothing is happening right this second I was talking to a lot of my cast-members from [Orange Is the New Black], and they were just talking about the importance of being vigilant and not being complacent — being involved and knowing what's happening on the day to day. Also, I want to caution myself and anyone else, particularly myself, against panic."
[image: screengrab]
Have a tip we should know? tips@mediaite.com