Stephen Colbert's SuperPAC Releases Its First Campaign Video: Episode IV: A New Hope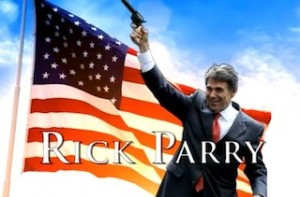 Earlier this year Stephen Colbert successfully filed to create his own SuperPAC, with the stunning and wonderful tagline "citizens for a better tomorrow, tomorrow." Colbert celebrated the decision by first raising money (via his very own credit card swipe), and now has taken the next step in his SuperPAC: producing his own television advertisement in advance of the Ames Iowa straw poll!
Earlier this week Colbert had teased the coming spot, revealing that he had called dibs on supporting Texas Governor Rick Perry in advance of what many are expecting will be his run for the White House. But in a delightfully comedic twist — and potential show of protest amongst the straw poll participants — Colbert's SuperPAC advertisement is asking participants to write-in as a candidate "Rick Parry" with an "a."
Given that the vast majority of straw poll participants are not devoted fans of Stephen Colbert's this write-in prank is likely to produce little news. Still, a funny concept and funnier video. Watch below (followed by the press release):
AMERICA – Colbert Super PAC released a TV ad today in advance of the Quadrennial Ames Iowa Straw Poll – held this year in Ames, Iowa. The ad, entitled "Episode IV: A New Hope" urges Iowans to write in the name of Texas Governor Rick Parry.

Thanks to last year's Supreme Court ruling in Citizens United, Super PACs can receive and spend unlimited amounts of money – as long as they do not coordinate with a particular candidate. Because that would be wrong. Also, illegal. Currently, there are seven different Super PACs vying to become the primary recipient of that sweet unlimited Parry cash.

"I called dibs on Rick Parry a long time ago," said Stephen Colbert, President and Assistant Equipment Manager for Colbert Super PAC. "I recognized that he's got the tough talk, the cowboy boots, and the history-of-shooting-coyotes-during-morning-jogs that our country needs. So if anybody is going to be taking unlimited donations and then not be coordinating with his campaign, it's going to be not us. So to prove we're truly uncoordinated, we're asking voters to write in Parry with an A – as in America, IowA, or PresidAnt. You can feel confident he's not asking us to do that."

The new ad begins airing today across the greater Des Moines metroplex. It is the first in a series that will be broadcast in the months leading up to the Ames Straw Poll this Saturday. The ad can be experienced here www.colbertsuperpac.com/episodeiv-anewhope.

Colbert Super PAC is an independent expenditure-only committee dedicated to empowering citizens to embrace freedom, liberty, and freeberty. Colbert Super PAC is officially known as Americans for a Better Tomorrow, Tomorrow, but if you give them enough money you can call them whatever you want. Neil. Susan. Madame X. Whatever. Just don't forget your safe word: Pumpkin patch.
Have a tip we should know? tips@mediaite.com
Colby Hall - Founding Editor