Steve Bannon Declares: Trump-led Movement 'Is at the Top of the First Inning'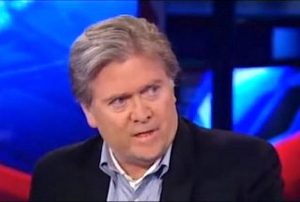 Win or lose the election, Donald Trump campaign CEO Steve Bannon believes that the movement that the Republican Presidential nominee has led is only beginning.
In a rare interview, Bannon appeared on SiriusXM's Breitbart News Daily where the ex-Breitbart CEO confidently stated that the future for what global populist politics is bright.
"I think regardless of the outcome, there's been a sea change in American politics," Bannon said. "And this movement as I keep saying is at the top of the first inning."
Bannon critcized New York Times reporter Nick Confessore, and by extension the mainstream media, for being arrogant and underestimating the intelligence of Trump's supporters.
We had Nigel Farage come to visit, he was invited by the governor of Mississippi, and we had a big rally down in, I think it was Hattiesburg, Mississippi, where Nigel Farage was actually on stage with Mr. Trump and other people. I think Jeff Sessions was there also. And the next day I was catching Morning Joe and they had the correspondent, I think it was Nick [Confessore], I think is how you pronounce his name from the New York Times, and he was sitting there you know kind of smug, smirking on Morning Joe and they were sitting there all laughing about how when – why, you know this thing is so bizarre, why would they have a guy that nobody knew. And the guy actually said, "I'll bet you 99% of the people" – and there was like 15,000 people in this arena – "I bet you 99% of the people would not know who this guy was."

And if you were there, and you saw it, 120% of the people knew who Nigel Farage was, right, because people that are a part of this movement, not only do they go to Breitbart but Nigel Farage is kind of a cult hero in this global populist movement. That probably explains the gulf between the mainstream media and the arrogance of the elites in this country versus what's really going on.
Check out the complete interview above, via SiriusXM's Breitbart News Daily — which airs weekdays from 6:00-9:00 a.m. ET on SiriusXM channel 125.
[image via screengrab]
–
Follow Joe DePaolo (@joe_depaolo) on Twitter
Have a tip we should know? tips@mediaite.com
Joe DePaolo - Senior Editor