Steve Mnuchin Defends Gov. Jet Use by Claiming New Yorkers Don't Care About Solar Eclipses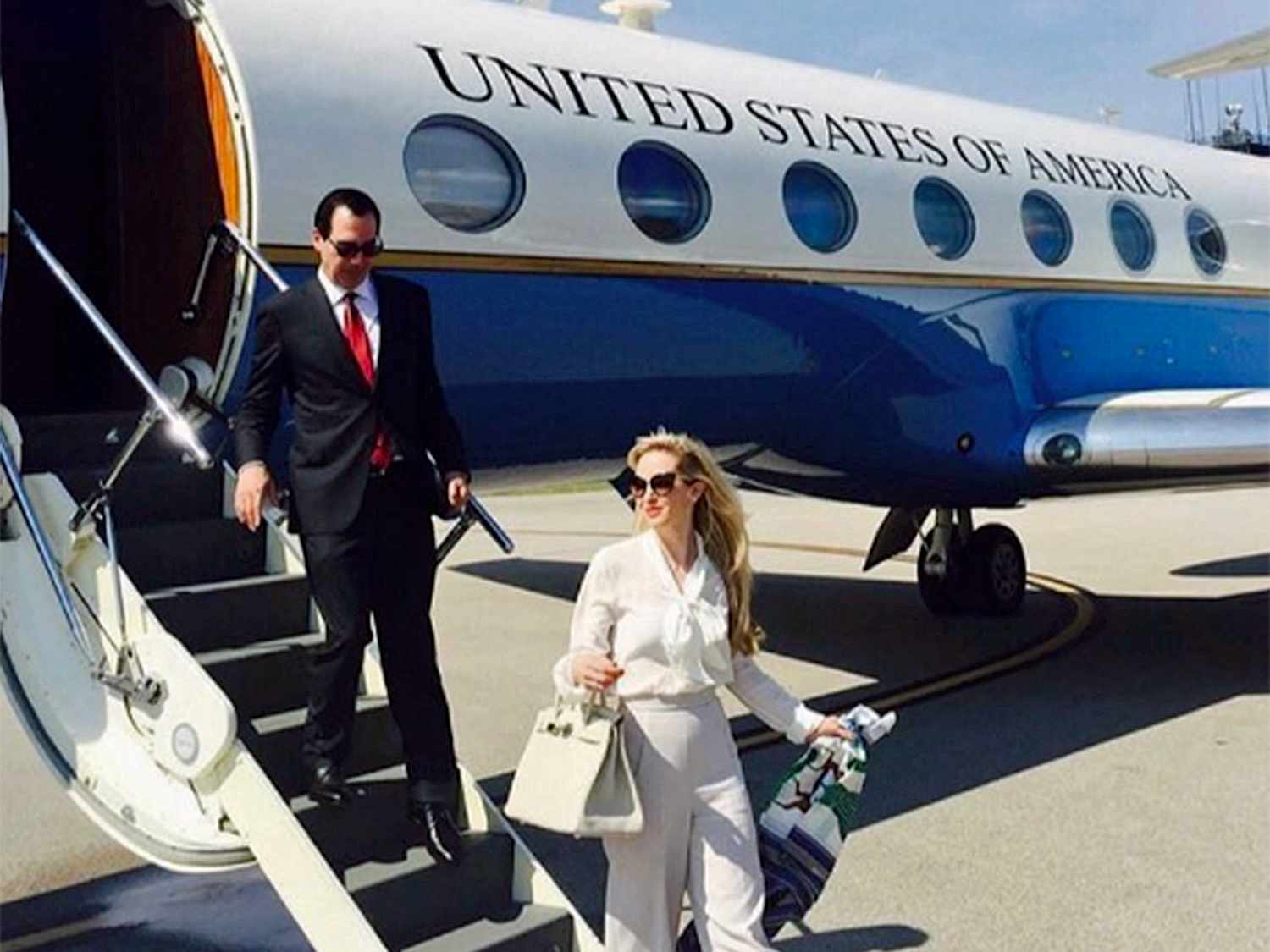 Fresh off requesting a U.S. government jet for his honeymoon, Treasury Secretary Steve Mnuchin is in damage control mode, and it's not going so well.
Mnuchin defended his request of a government plane — for a honeymoon trip with his actress wife Louise Linton to Scotland, France and Italy — as a matter of national security at a Politico conference on Thursday.
Mnuchin also addressed the controversy in a tweet, calling allegations he used a government jet on his honeymoon "#FakeNews":
I didn't use a government plane on my honeymoon, and if I had I would have paid for it myself. #FakeNews

— Steven Mnuchin (@stevenmnuchin1) September 14, 2017
Of course, the reports actually said that he had "requested" a government plane, not that he ended up using one.
In the Politico conference, he was also asked whether he used a government jet for a trip to Kentucky with his wife to watch the solar eclipse, and Mnuchin declared that as a New Yorker, he did not care for the celestial spectacle:
"You know, people in Kentucky took this stuff very serious," he said at the conference. "Being a New Yorker and (living for a time in) California, I was like, the eclipse? Really? I don't have any interest in watching the eclipse."
But then why did Mnuchin bother to see the eclipse, which he viewed alongside his wife in Kentucky? Because the multi-millionaire wanted to see Fort Knox, where the U.S. keeps a ton of gold.
"We went to see Fort Knox," he explained. "Fort Knox is a symbol of the economic might of our country."
And Mnuchin's dismissal of the solar eclipse as a petty spectacle for red state rubes was met with a heady dose of mockery on social media:
Can someone explain to me exactly what this means? Via @playbookplus pic.twitter.com/XNgK1LYJCH

— Josh Holmes (@HolmesJosh) September 15, 2017
Scrooge McDuck would have also been more impressed by piles of gold than a rare, coast-to-coast solar eclipse.

— Matt Fuller (@MEPFuller) September 15, 2017
Only the non-cosmopolitan people with cute lives cared about the eclipse. https://t.co/ERiOLzoTOz

— Karen Tumulty (@ktumulty) September 15, 2017
Munchin had Pence marry him, wanted a govt jet for honeymoon, investigated for taking wife on a taxpayer-funded eclipse date. I see a theme.

— Amanda Carpenter (@amandacarpenter) September 13, 2017
New Yorkers, chaining themselves to the front doors of their beloved bodegas, hear word of a solar eclipse, but feel nothing.

— Ted Mann (@TMannWSJ) September 15, 2017
[image via screengrab]
—
Follow Aidan McLaughlin (@aidnmclaughlin) on Twitter
Have a tip we should know? tips@mediaite.com
Aidan McLaughlin - Editor in Chief