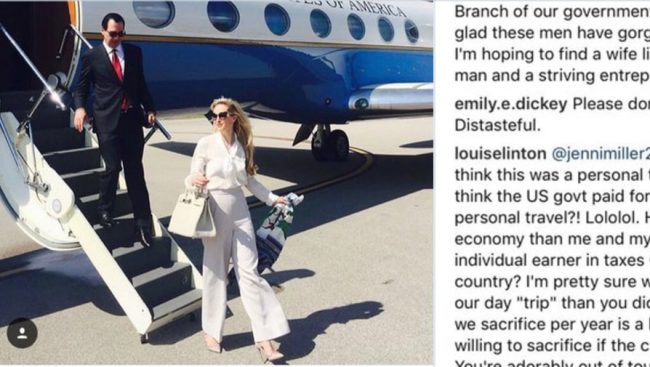 America is getting a reminder about the negative externalities of having billionaires in government — and their spouses.
On Monday evening, news began whipping around the Internet that Louise Linton, the 36-year-old Scottish actress and wife of Treasury Secretary Steven Mnuchin went on a nasty, tirade against an anonymous Instagram user.
The spat began when the user chided Linton for posting a garish photo of herself disembarking from an official U.S. government jet while on a jaunt to Kentucky.
"Glad we could pay for your little getaway," wrote Instagram user Jenni Miller, of Portland, Oregon.
That seems to have been too much for Linton, who responded with an essay. The thrust of the epistle seems to be that Linton has more money and can do what she wants and doesn't have to truck with the criticism of the poors. It was worthy or Mean Girls — or possibly Marie Antoinette.
In Full:
"Cute! Aw!!! Did you think this was a personal trip?! Adorable! Do you think the US govt paid for our honeymoon or personal travel?! Lololol. Have you given more to the economy than me and my husband? Either as an individual earner in taxes OR in self sacrifice to your country? I'm pretty sure we paid more taxes toward our day 'trip' than you did. Pretty sure the amount we sacrifice per year is a lot more than you'd be willing to sacrifice if the choice was yours. You're adorably out of touch. Thanks for the passive aggressive nasty comment. Your kids look very cute. Your life looks cute. I know you're mad but deep down you're really nice and so am I. Sending me passive aggressive Instagram comments isn't going to make life feel better. Maybe a nice message [sic], one filled with wisdom and hunanity [sic] would get more traction. Have a pleasant evening. Go chill out and watch the new game of thrones. It's fab!"
It goes without saying that this didn't last long on Instagram, and Ms. Linton's account was swiftly privatized. But of course, nothing on the Internet disappears. So here's a screengrab that has been retweeted 4,700+ times.
Louise Linton, wife of US Treasury Secretary Steven Mnuchin, just turned her Instagram private after posting this (h/t @skenigsberg) pic.twitter.com/beakVnAhhu

— Margarita Noriega (@margarita) August 22, 2017
… She seems like a real thrill at dinner parties.
Have a tip we should know? tips@mediaite.com