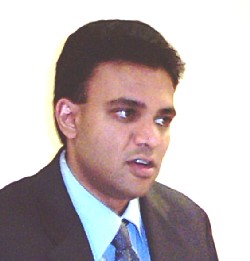 Even before I was old enough to vote, television introduced me to the politics of personal destruction. Through modern TV coverage, I have paid witness to extreme activists and political pundits shouting their hate filled character assassinations from the roof tops.
But while I watched these smear campaigns unfold before me, I was disenchanted but ultimately disengaged from what appeared to be a game of political dodge ball.
Until now.
Last week, television again gave me a front row seat to the politics of personal destruction. This time however it was different – it was not voyeuristic, watching someone whom I did not know become the latest casualty of the traveling carnival that is cable news.
The target was a man I have known all of my adult life and whom I profoundly respect and admire. I watched this man, my good friend, as he was labeled a "jihadist," "terrorist sympathizer," infiltrator and worse. My reaction was incredulous, as these absurd, outrageous and despicable claims were parroted across cable television, the blogosphere and Twitter.
The man in question is not just my friend Rashad Hussain, but the President's Envoy to the Organization for the Islamic Conference.
I have had the privilege of knowing Rashad since our freshman year in high school. As debate partners for four years, we traveled the country together, discussing the finer points of U.S. foreign policy towards China, health care, immigration, juvenile crime and many other topics.
The only people with whom I spent more time during these four years were perhaps my parents.
On the surface, Rashad and I were an intriguing pair. Debating under the team name "Goldberg-Hussain," we occasionally raised eyebrows and often elicited laughter. It was an interesting time for such a Jewish – Muslim partnership, in the wake of the first Gulf War, the tail end of the first Intifada and Rabin's assassination.
Although we were just two teenagers from Texas, we knew that our relationship was an example of coexistence, and that it reinforced the importance of dialogue across religions, cultures and nations. Our partnership was living, breathing proof that what brings us together is far stronger than what tears us apart.
Rashad was not simply a debate partner, but a close and trusted friend. And while some may argue that our friendship prevents me from thinking clearly, I know it gives me the unique perspective to speak to the things that matter – his character, his views and his love of country.
It is inexcusable to witness people who know nothing of Rashad, not his Wyoming roots nor his love of Carolina basketball, or his skill at impersonations – try to smear a good man. It is one of the reasons I felt compelled to write about the man I know and the great American public servant he is becoming.
When Rashad joined the Bush Administration's Department of Justice in 2008, I received the standard background check phone call. And as the interviewer asked me about Rashad, two words stood out – character and integrity.
I told my interviewer that the U.S. government was lucky to have someone like Rashad so willing and eager to serve. Rashad chose public service over personal gain, and was devoted – through his work with the House Judiciary Committee, judicial clerkship in Michigan, and service in the DOJ – to upholding the values that make our country great – freedom, liberty and justice.
In fact, Rashad was so dedicated to his country that he was unable to serve as a groomsman in my wedding – because his work at the DOJ took priority.
I have known Rashad for 17 years. I have eaten in his house more times that I can recall and discussed every issue imaginable – from Middle East peace to Tiger Woods.
And I can say without equivocation, hesitation or reservation, that Rashad is the ideal candidate for public service – he truly is a fantastic human being, and absolutely unrecognizable from the descriptions in the hate media.
Rashad and his family represent the story of America – immigrants who ventured from India to raise three wonderful children, who understand the importance of education, giving back to their communities, and are so very appreciative of the opportunities that America has given them.
He comes from a model American family – kind, respectful, open, generous and observant. He is a model American.
There is no question that Rashad is dedicated to helping address many of the issues that trouble relations between America and Muslims around the world, and that his view of terrorism is as clear as it is simple – it is not just unacceptable but antithetical to Islam.
As Rashad always reminds me, Islam means peace.
And that brings me back to television. The proliferation of television channels and other media have enabled smear campaigns to occur at lightening speed. One moment a friend is the President's new OIC envoy, and the next, he is decried as a jihadist. The need to shock and enrage audiences, to provoke and antagonize has never been greater, and in the process, we discredit the very people that are most qualified to help.
If we choose to tear down fine Americans like Rashad, who aspire to nothing more than to serve their country, represent their communities and work to build the bridges we so badly need, then who do we expect to lead us?
Josh Goldberg is a public affairs executive in the energy industry. He attended Greenhill School in Dallas, Texas with Rashad Hussain from 1993-1997.
Have a tip we should know? tips@mediaite.com