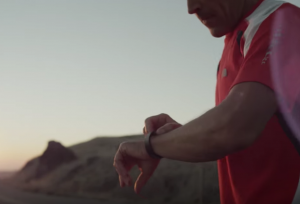 It's impossible to watch anything on television these days without seeing the constant barrage of wrist-donning fitness trackers meant to improve your health. You know the ads — they sleekly feature some cute girl in yoga pants and you're supposed to relate to the poor schlub trying to get in shape and win her heart. So, you simply buy a $100 piece of plastic, toss it on your wrist, and suddenly you're ripped like McConaughey playing the bongos shirtless.
Or at least, that's what they want you to believe, but a new study is calling into question the veracity of Fitbit analytics which some are claiming are wildly inaccurate.
According to CNBC, "Researchers at the California State Polytechnic University, Pomona tested the heart rates of 43 healthy adults with Fitbit's PurePulse heart rate monitors, using the company's Surge watches and Charge HR bands on each wrist." Subsequent electrocardiogram data for users in the study demonstrated that heart rates were miscalculated by Fitbit devices by up to 20 beats per minute.
The study reads in part, "The PurePulse Trackers do not accurately measure a user's heart rate, particularly during moderate to high intensity exercise, and cannot be used to provide a meaningful estimate of a user's heart rate." The study was commissioned by Lieff Cabraser, the law firm that is behind a new class action lawsuit aimed at three specific Fitbit devices: the Fitbit Blaze, Fitbit Charge HR and Fitbit Surge. All use what is known as the PurePulse heart monitor.
Although the San Francisco-based company responded that the study was financed by the plaintiff's lawyers who are actively suing the company — "there is no evidence the device used in the purported 'study' was tested for accuracy," Fitbit said — the Lieff Cabraser study is hardly the first effort to debunk the claims of exactitude in the popular products.
CNBC continued:
… a separate study by Ball State University in Indiana and journalists at NBC-affiliated TV station WTHR released in February, also showed that the Fitbit Charge HR missed heartbeats, marking an average heart rate error of 14 percent.

"Calculating a heart rate that's off by 20 or 30 beats per minute can be dangerous — especially for people at high risk of heart disease," the report explained.

Fitbit did send a written reply to WTHR, saying that its devices "are designed to provide meaningful data to our users to help them reach their health and fitness goals, and are not intended to be scientific or medical devices."
Dr. Allan Stewart, the director of aortic surgery at New York City's Mount Sinai Hospital, warns that the discrepancy between what Fitbit purports and the findings in these studies could prove fatal for some users. Dr. Stewart said, "[A]thletes may be at a minimum improperly training and, at worst, potentially elevating their heart rates to an unsafe level where a massive heart attack is entirely possible."
—
[h/t CNBC]
Have a tip we should know? tips@mediaite.com