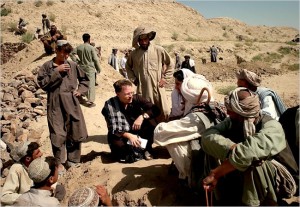 The latest survey conducted by Quinnipiac University's Polling Institute has found that for the first time, a majority of respondents believe the U.S. should not be involved in Afghanistan. 50 percent of the American voters polled are opposed to the war, while 44 percent answered that the U.S. is "doing the right thing" in Afghanistan.
These results are drastically different from those the Institute found on September 9. In that poll, 49 percent of voters said they were in favor of the war, while just 41 percent were opposed to it.
In fact, throughout 2010, support for Afghanistan has decreased significantly—on January 14, 59 percent of voters said they believed the U.S. was doing the right thing in Afghanistan; just 35 percent told Quinippiac that our nation should not be involved there. What could be behind the shift? Perhaps voters are responding to Senator Lindsay Graham's recent admission that American soldiers will probably be in Afghanistan until 2014—not 2011, as the administration has said previously.
Here are some of the poll's other interesting findings:
– 47 percent of respondents want Congress to repeal the new health care law, while 30 percent want it expanded. 18 percent want to leave it as is. 45 percent of those who answered "expand" are between 18 and 34 years old.
– A large majority of those polled are in favor of repealing Don't Ask Don't Tell: 58 percent, to be exact. 34 percent don't want it repealed.
– Most people also support a potential national ban on using cell phones while driving. 63 percent of respondents believe such a ban would be a good idea, while 34 percent say it would be a bad idea. 49 percent of respondents also said that prohibiting cell phone use while driving would make roads and highways "a great deal" safer.
Have a tip we should know? tips@mediaite.com