Tabloid Bores: NY Daily News Embarrasses Itself in Effort to Smear Police Commish Ray Kelly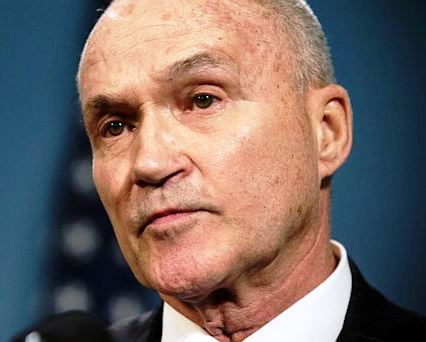 Here's what journalism has become:
If you want to get the pulse of the people about an outgoing police commissioner of the biggest city in the country, don't run a poll.
Or don't look at prior polls or statistics about said police commissioner.
After all, that may not fit the pre-determined narrative desired.
Instead, bring a cardboard cutout of the Commish—in this case, Ray Kelly of the NYPD—to Harlem and find those willing to push a narrative that includes Kelly being K-K-K-Kelly…a racist, a criminal.
And that's exactly what Kerry Burke and Larry McShane of the New York Daily News did over the weekend in an effort to ridicule Mr. Kelly's claim that he would receive a "friendly greeting" the next time he went to Harlem.
Of course, Kelly's assertion of being warmly received derives from reading various polls on his job performance throughout his tenure as commissioner, which (at 12 years-plus) is the longest in the 168-year history of the NYPD.
For instance, earlier this year, Quinnipiac University—arguably one of the more reliable and credible surveying firms out there—conducted a poll on Kelly's overall job performance.
Here were the results:
• 75 percent of New Yorkers approved of his performance as NYPD Commissioner
• Among black voters, 63 percent approved
• Among Hispanics, 76 percent approved
Later in the year, when matched up in a Marist poll against former NYPD Commissioner Bill Bratton—his possible successor when Mayor-Elect Bill de Blasio takes office in January, Kelly wins "re-election" (figuratively) for commissioner by 25 points. When adding a "someone else" candidate, Bratton and "someone else" still lose, but at least get within the margin of error.
So when Kelly—an advocate of a stop-and-frisk policy that has helped reduce murders in the city to levels not seen since the 1950s—told Playboy that he felt a trip to Harlem would be a warm, positive experience, it was based not by his gut, not as spin. Rather, it is a feeling based in numbers, results…annual upbeat sentiment while holding one of the toughest jobs in the country for over a dozen years.
But crack reporters Burke and McShane had one objective in mind: Smear Ray Kelly. Need proof? In addition to the cardboard cutout, here are the first two quotes you'll find from the average citizens Burke and McShane found for their Pulitzer piece:
"Ray Kelly is part of a racist, white supremacist system," said one man.
"Everyone feels criminalized," said another. "If he came up here, we'd be terrified by his presence. … He's done nothing but bring us down."
Readers have to go 14 paragraphs into the story before finding the one quote approving of Kelly's performance. 14. But what should one expect from an attention-seeker like Kerry Burke, whose career apex was achieved after begging to be on Bravo's reality show, Tabloid Wars a few years ago?
On that topic, Burke once tried to portray himself as a victim, forced against his will to be on TV: "It's not like I want to be on television," he explained. "It was a grueling process because all of a sudden I had to run around with a film crew."
Right. Those mean Bravo producers must have had a gun to Burke's head to compel him to be on the show.
Or maybe, just maybe, he openly campaigned to be on the show.
Regardless, both Burke and sidekick McShane didn't feel any need to share any of the favorable polls cited above from the past year on Ray Kelly for this piece.
But a huge picture splashed across one of the biggest papers in the country with an unflattering cutout of Kelly being stepped on by one of the citizens he is sworn to protect?
Well, that's par for the periodical.
Mistrust of the media is at an all-time high.
With stories like these from the New York Daily News, getting out of the gutter in the court of public opinion ain't happening anytime soon.
— —
>> Follow Joe Concha on Twitter (@ConchaMedia)
Have a tip we should know? [email protected]