Tabloid Makes Embarrassing Error After Misunderstanding Military Terminology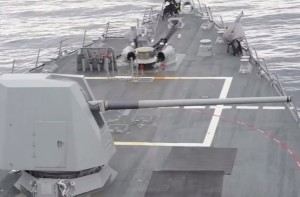 A British tabloid made an embarrassing error Friday, writing a hysterical piece that incorrectly reported the Defence Ministry had paid hundreds of millions of pounds to buy a five-inch-long gun.
"We just blew £183m on a five inch gun, but it's 'a good value for taxpayers,'" read the outraged headline from The Daily Star. The subheadline also reinforced that the author believed the gun was literally five inches, calling it "the length of a toothbrush."
The only problem? Five-inch guns are named after their caliber, not their length. They shoot munitions that are five inches in diameter, meaning the guns themselves are necessarily huge.
The piece quickly attracted the mockery of those who were more familiar with military terminology.
Yes, the @Daily_Star has printed this. They seem to have confused the calibre of a new gun with the length of it… pic.twitter.com/76YXdpeJ52

— UK Defence Journal (@UKDefJournal) July 29, 2016
This is amazing. The Star thinks a five-"inch gun is literally five inches long. pic.twitter.com/Uv2BFnlfc3

— (((Tomos))) (@portraitinflesh) July 29, 2016
Um, I'm not sure this is how gun measurement works, Daily Star: https://t.co/hs7CTm1eW1

— Wings Over Scotland (@WingsScotland) July 29, 2016
Honestly, the low-calibre of journalism graduates these days…:) pic.twitter.com/YqH6alBGBQ

— Willard Foxton (@WillardFoxton) July 29, 2016
Here's the Daily Star page that thinks the Navy's new five-inch gun is only five inches long (ht @UKDefJournal) pic.twitter.com/T8s66GMmfl

— Alistair Coleman (@alistaircoleman) July 29, 2016
The article has since been corrected, and now reads as a sort of mundane examination of a fairly routine naval purchase.
[Image via screengrab]
——
>>Follow Alex Griswold (@HashtagGriswold) on Twitter
Have a tip we should know? tips@mediaite.com