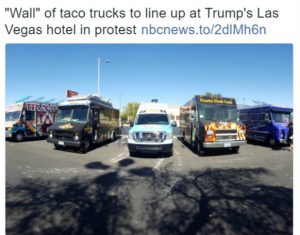 It may not be a taco truck on every corner, but dozens of food trucks will make a statement on Wednesday when they form a wall around Trump International Hotel in Las Vegas.
Vegas is the site of the final presidential debate between Republican nominee Donald Trump and Democratic candidate Hillary Clinton. It was a Trump surrogate who was the inspiration for this demonstration as he warned that if Trump didn't become POTUS, we would have "taco trucks on every corner." And, of course, Trump famously wants to build a wall at the southern border and make Mexico pay for it.
According to NBC News, the union workers organizing this have dual reasons for doing this tomorrow. One, they want to make a statement about his rhetoric about building the wall.
"We did not come up with the idea for the wall, Donald Trump came up with building the wall," said Yvanna Cancela, the political director of the Culinary Workers Union 226 in Las Vegas. "We want to show him that walls don't divide us, and rather what he has done is uniting us. And when I say 'us,' I mean it as in every group that Trump has vilified: Muslims, women, immigrants and workers. We are all coming together to make sure that Donald Trump never becomes president."
Second, they want to highlight Trump's treatment of his workers.
"While we will have taco trucks, the reason we are out there is for the last year now Trump has illegally refused to bargain with workers who won a union election at his hotel," Cancela said. "The biggest message we have sent to him is he needs to come to the negotiation table."
Per the LA Times, Trump senior adviser AJ Delgado said "thanks" to the trucks for gathering outside the hotel because "she never turns down a taco."
Watch the clip of the Latinos for Trump founder talking about taco trucks above, via MSNBC.
[image via screengrab]
–
Follow Justin Baragona on Twitter: @justinbaragona
Have a tip we should know? [email protected]