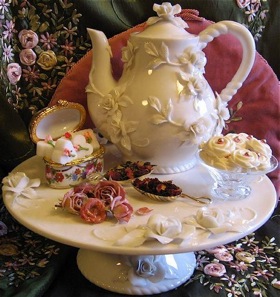 The Tea Party movement has prompted its share of outrage and confusion with Americans from all walks of life, but now it's their namesakes that are complaining their reputation has been tarnished by tea parties of the political variety. Somewhere along the road paved with falsified birth certificates and hand-written signs, people apparently never considered how adopting the beverage would affect the tea industry and those who subscribe to tea party culture — "the kind where you mind your manners and consider proper brewing temperatures." It's not good.
The Associated Press is reporting that the tea drinking community has been negatively impacted by the rise of the Tea Party movement, which has made it increasingly difficult to find relevant information on the drink through search engines, and explain that their hobby is apolitical in nature. World Tea Expo President George Jage told the AP that, while he is happy to see people become passionate about politics, "for our industry, it has been very damaging in an overshadowing type of way."
Tea activists in particular feel that their cause– literally the promotion of tea consumption– has suffered now that it has been branded a political pastime. Some are even upset that tea has become a metaphor for indignation when they associate it with peace and harmony:
"I do everything in my power to promote the benefits and power of drinking specialty tea. With all the media attention that the tea party [movement] gets, it's shifted that focus," said Beth Johnston, owner of Teas Etc. in West Palm Beach, Fla. She's staying neutral on the politics, but she has definite opinions about tea. "Tea is soothing and it's restorative and it's healing and that's really the polar opposite of the energy of the movement, regardless of whether you agree or disagree."
It's a bit late to save the tea industry from the shadow of the small government, lower tax crowd, but at least it serves as a warning for what may come: if this "coffee party" movement gains any traction, Starbucks is in for some major business complications.
[Photo via]


Have a tip we should know? [email protected]