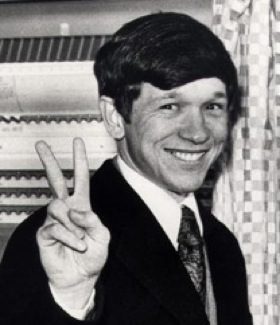 It took a few choice words and an Air Force One ride to melt Dennis Kucinich's adamant opposition into reluctant support. The reactions to Barack Obama's successful political courtship were predictably mixed. While some decided to underplay the relevance of a fringe congressman's opinion and others took the opportunity to praise the president's patience, the Washington Post's Dana Milbank saw Kucinich's flip-flop as a holiday miracle.
It's best to just reproduce this introductory paragraph verbatim:
According to legend, if you catch a leprechaun in the forest, the little creature must grant you three wishes. Our Kenyan Hawaiian commander in chief evidently has the luck of the Irish, because, just in time for St. Patrick's Day, President Obama bagged himself a leprechaun — in Cleveland, of all places — and on Wednesday his first wish was granted.
Yes, the entire piece continues in this tone– health care reform is a "wish" the "little guy" is granting the president for getting caught, "leaping leprechauns!" After the shocking revelation that Milbank is both a birther and believes Kucinich is a magical elfish creature washes over, his serious point is just as incomprehensible. He argues that Kucinich's move forward will be the first step towards a united Congress for health care reform. Or, as he explains, "his capitulation was the clearest sign that the left, after 15 months of antagonizing Obama because of his compromises, is now ready to cooperate."
Except the left has been cooperating, with the exception of more radical members like Kucinich. Yes, President Obama is now one vote closer to reform, but it isn't a vote that carries weight with the bulk of the opposition. And therein lies the problem: Milbank's analysis seems to assume that the Democrats' greatest opposition to the bill lies within. If only Obama could convince people like Kucinich to vote for the bill, he would win. Except nowhere near the bulk of his problems come from people to his left, which is why he felt he had the political space and time to spend with Kucinich– he was the exception to the rule. And Kucinich's support of a bill is not going convince any conservatives to hop on board.
Have a tip we should know? [email protected]