Tech Company Isis Forced to Change Name Due to Unfortunate Association with Terrorism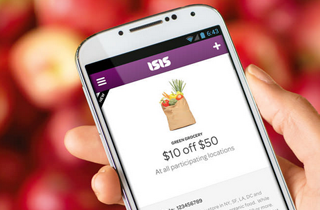 When AT&T, Verizon, and T-Mobile launched their mobile wallet company in 2010, calling it "Isis" seemed like a safe, innocuous brand decision. Unfortunately, there's now a terrorist group known as ISIS, and as such, the CEO of Isis is looking for a name change.
"We wanted a brand that captured the simplicity of our mobile wallet experience. We chose Isis," Michael Abbott, CEO of the online payment service company, said in a statement explaining the company's rebranding. "Recently, we have observed with growing concern a militant group whose name, when translated into English, is Islamic State of Iraq and Syria – often referenced by the acronym ISIS…
"However coincidental, we have no interest in sharing a name with a group whose name has become synonymous with violence and our hearts go out to those who are suffering," he continued. "As a company, we have made the decision to rebrand."
While Abbot does have a valid reason for changing the company name — ISIS-themed merchandise is apparently a lucrative business in Islamic countries — CNN notes that Isis, which was launched by major telecom companies as a "smartphone-based service to store payment cards, loyalty programs and merchant offers," is struggling against its mobile wallet competitors, such as Square, PayPal, and Venmo. "A forced rebranding might not be such a bad thing," they added.
In any case, here's a list of other Egyptian gods that the company formerly known as Isis could draw from — and they're all safe bets, barring the rise of a terrorist group called Qebehsenuef.
[CNN Money]
[Image via PayWithIsis.com]
—
>> Follow Tina Nguyen (@Tina_Nguyen) on Twitter
Have a tip we should know? tips@mediaite.com