Terrible Wisconsin Company Has Decided to Do Away With Muslim Employee Prayer Breaks
By golly it sure seems like a tough time to be from the state of Wisconsin, aside from the single digit weather. First it was a Netflix doc that exposed some awful Wisconsin law enforcement as tubs-of-marbles, then it was a heart-breaking overtime loss this weekend to Larry Fitzgerald for all Green Bay Packers faithful. As if sad Wisconsin people don't have enough to hang their heads over right now, let's just toss in this story about a company called Ariens in the city on Brillion, WI.
The manufacturing plant has decided to do away with prayer breaks for its Muslim employees. Under the old policy, workers who wished to pray were allowed two five-minute prayer breaks built into the day, and the new changes are threatening the job status of dozens of Muslims employed by Ariens. Muslims typically pray five times a day, and those employed with Ariens were told that their lunch break can now be used to double as a time of prayer.
One of the men in the above video, Green Bay's Masjid Imam Hasan Adbi, told ABC 2, "If someone tells you, 'You pray on your break,' and the break time is not the prayer time, it will be impossible to pray." Upwards of 70 Muslim employees were reportedly handed unemployment papers by the company if they could not comply with the new standards.
As for the company that finds itself at the center of a shitstorm regarding the infringement of religious liberties for Muslim employees, the unfortunately-named "Ariens" released the following statement:
"We are asking employees to pray during scheduled breaks in designated prayer rooms. Our manufacturing environment does not allow for unscheduled breaks in production."
I don't have superpowers to determine other people's religious affiliations, nor have I ever met the man, but something tells me that Ariens President and CEO Dan Ariens is not Muslim (I could be wrong):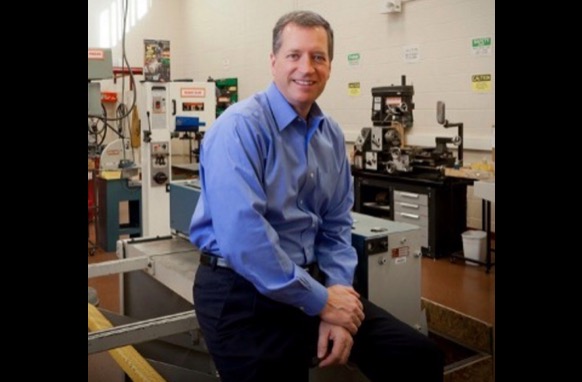 Ariens specializes in the manufacturing of snow blowers and lawn mowers. Donald Trump is currently polling second in the Badger State.
Watch the above video from ABC 2. Images via ABC-2 screengrab and Ariens.
—
>> Follow J.D. Durkin on Twitter (@MediaiteJD)
This is an opinion piece. The views expressed in this article are those of just the author.