Texans Quarterback Brock Osweiler Had a Laser Pointed at Him Through Much of Monday's Game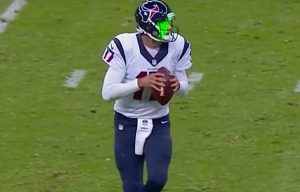 The NFL played a regular season game in Mexico on Monday night for the first time since 2005. In Estadio Azteca, where the game was played, fans have frequently pointed green lasers at soccer players during matches over the years. On Monday, Houston Texans quarterback Brock Osweiler got the same treatment.
Osweiler and at least one other Texans player had lasers pointed directly at them throughout the game on Monday night. Stadium security was unable to pinpoint the perpetrator, and was unable to stop what Osweiler admitted was a distraction.
"(A)ll I know at this point is when we were out there on the field on offense, there were multiple times I saw a green laser coming from the stands," Osweiler said, according to the Houston Chronicle. "There was a couple of times it definitely hit me in the eye. And it was very noticeable."
"I saw that and I thought I was in the Twilight Zone," Oakland Raiders defensive lineman Khalil Mack added, according to USA Today.
In addition to the quarterback, Houston running back Akeem Hunt also had the laser flashed in his eyes.
The Texans lost the game 27-20. Osweiler was hesitant to blame his play on the laser pointer, but ultimately ceded that it did have an impact.
"I never want to say one thing is a difference-maker," Osweiler said. "But certainly, having a laser zoomed in on your eyeball definitely affects how you play a game."
[image via screengrab]
–
Follow Joe DePaolo (@joe_depaolo) on Twitter
Have a tip we should know? tips@mediaite.com
Joe DePaolo - Senior Editor