JUST IN: Suspect in Texas church shooting has been identified as Devin Patrick Kelley, sources tell CBS News https://t.co/iB6zuuPslE pic.twitter.com/gimMKQa17p

— CBS News (@CBSNews) November 5, 2017
The identity of the alleged assailant in the Texas Church shooting –that led to the death of over 20 individuals and injuries to dozens more– has been released and his name is Devin Patrick Kelley, who according to the NY Times is from nearby Comal County, Texas, which is roughly 30 miles north of San Antonio.
According to crowd-sourced (and therefore unverified) Everipedia, here's what is currently being said about Kelley. He graduated from New Braunfels High School (which just over 30 miles away from Sutherland Springs) and he served in the US Air Force. He allegedly taught a Bible Study class at a nearby church in 2013. Reports have also surfaced that his Mother-in-law owns a Sutherland Springs P.O. box, but that is unconfirmed.
Little is known about the Kelly's motivation, but he was killed after a brief chase that he led into Guadalupe County, which is adjacent to Wilson County's Sutherland Springs where massacre took place. It is still unclear if he was killed by police or took his own life.
Roughly a week ago, Kelley posted this image on Facebook, the account of which has since been deactivated: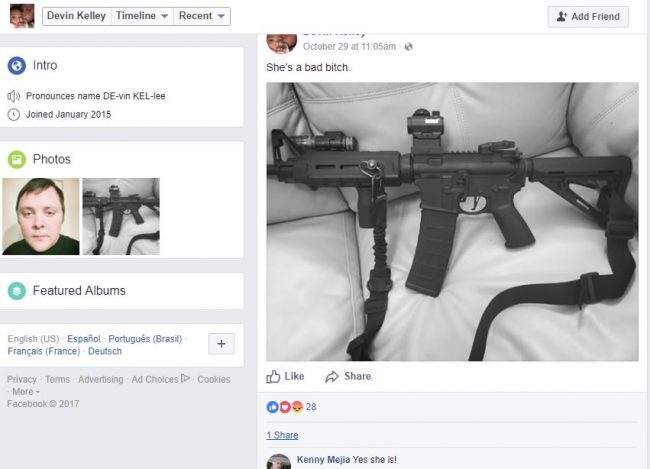 CNN reports that Wilson County Commissioner Albert Gamez Jr revealed that at least 27 people were killed, but the death toll is expected to climb." One of the victims was the 14 year-old daughter of church paster Frank Pomeroy.
According to eyewitness accounts, he entered the First Baptist Church of Sutherland Springs dressed in full combat gear and opened fire just before 11:30 am local time. ABC News reports an eyewitness  saying "We heard several shots and we all started running inside the store," adding "It lasted about 15 seconds," and "I yelled, 'Get down! Get inside!' and we all went into hiding."
This report reveals new details:
Authorities revealed that a heroic citizen in the church "grabbed his rifle and confronted the suspect," who was armed with a "Ruger AR assault type rifle." The local citizen pursued the suspect, who ran off the road and crashed and was found deceased in his vehicle. "We don't know if it was a self inflicted gunshot wound or if he was shot by our local resident who engaged him with gunfire," authorities said. It was the largest mass shooting in Texas history.
Sutherland Springs is a small town of roughly 350 residents and is roughly 30 miles south of nearby San Antonio.
We will update this post as more details of the assailant emerge.
–image via screen capture–
Have a tip we should know? tips@mediaite.com